Apple outs iPhone micro USB adaptor
Euro-standard power feed
It's not only the iPhone 4S that will ship on 14 October - so too will Apple's long-promised dock-to-micro-USB adaptor.
Punters eager to "use third-party micro USB cables and chargers to sync or charge your iPhone" will be able to do so for a mere consideration of £8.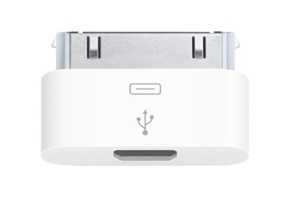 Apple promised in February 2011 that it would add micro USB compatibility to the iPhone during the course of the year.
Its pledge followed a European Commission scheme to establish micro USB as a standard form of charger interface for smartphones, the better to ensure fewer chargers need ship, resulting in less electronics waste. ®