UK punters happy to pay £3 to top up e-wallets
We never knew you were so keen
A survey of UK attitudes to mobile payments reckons that £3 a time is the sweet spot for topping up wallets, with 65 per cent of you looking forward to pay-by-tap.
Paying for the privilege of adding credit to a purse was the option selected by 34 per cent of respondents to the survey, which was carried out by marketing consultants Simon-Kucher. Less popular options included paying a set fee per transaction (17 per cent), paying a percentage of each transaction (14) or paying a monthly fee (22 per cent).
Having established that users want to pay every time they load money onto the wallet (paying nothing wasn't an option) the public was asked how much they'd be willing to shell out every time they wanted to transfer funds to their phone.
Fascinatingly almost 40 per cent of people said 25 pence was just too cheap, which is very magnanimous of them. £3 was the point at which the majority though it prohibitively expensive, so Simon-Kucher concludes that to be the maximum services will be able to charge.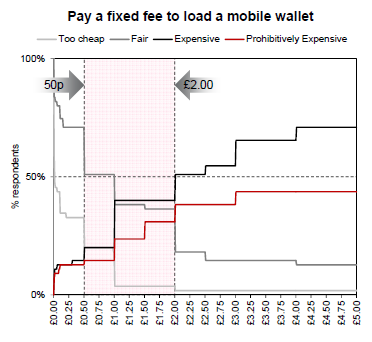 Prepaid cards often charge a fee for topping up: Orange cash, for example, will charge up to £1.50 if topped up at a post office, but that drops to nothing if the money is transferred using a debit card. Google's pre-paid card (as opposed to Google Wallet which hosts cards) isn't charging anything at all to top up the balance, at least until the end of 2011.
Existing wallet schemes, such as the Google Wallet and the UK's Orange Quick Tap don't charge the user anything at all. Load Google Wallet with your Citi card, or Orange Quick Tap with your Barclaycard details, and you'll pay nothing at all for the convinence of paying with a tap of the handset.
Neither Google nor Orange makes any money out of proximity payments, the pennies collected on each transaction go to MasterCard in both cases. And it is pennies: literally a penny a time for low-value transactions on Visa's PayPass, ramping up to four pence for anyone spending a tenner. Not enough to get very excited about unless you're really upset at the eight pence shops currently pay on every Chip & PIN transaction.
So the idea that UK punters will pay £3 a time to top up a pre-paid balance seems fanciful, even if the 316 respondents to Simon-Kucher' survey were representative it seems clear that competitive pressure will force prices a lot lower than that. ®