London gets first new Google Chromebookshop
We offer only one thing: Total Googly dominance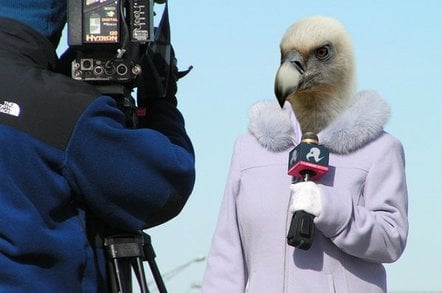 Brit geeks have snapped up Samsung-made Chromebooks from Google's new 'store' on London's Tottenham Court Road in a sign that the Chocolate Factory's attempt to clone Apple Stores' razzle-dazzle is paying dividends.
Staff at the branch told the Reg that they had shifted "quite a few" of the £349/£399 mini-laptops since the Google Shop - the first in the world - opened on Thursday night. One such "demonstrator", Latoyah, said that it had been so busy at the weekend they'd had to double up staff - albeit from 3 to 6 - to deal with the Google fans wanting to get hands-on with the machines. Chrome Book have been on sale on Amazon and Best Buy since June.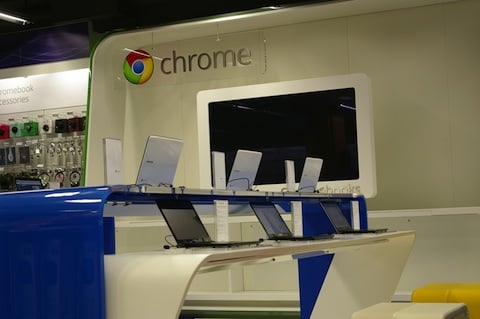 Benches, funky stools and 12 Chromebooks in London's Google shop
Still, the Google shop is no Apple Store.
The outlet is run within PC World/Curry's shops and demonstrate Google just dipping its toe in the world of shop window retail. Consisting of 12 Chromebooks, four benches and six postmodern leather stools, the store in Tottenham Court Road is kitted out in Google colours, has three dedicated staff and one large display screen... which didn't seem to be working three days in.
"It just didn't turn on this morning," one member of staff explained.
The Google bench only sells Chromebooks - 12.1" screen devices running Google's Chrome operating system. The machine boots in 8 seconds, has a 1.6Ghz Intel processor and comes in black and white. The opening screen on boot-up is a Google account log-in and the home screen is the Chrome homepage with a selection of web apps, though some apps like Docs will run off-line too. It's possibly because the concept is so different to the competition (Googly as the Reg review puts it) that Google have felt the need to splash out on some colourful interior decor.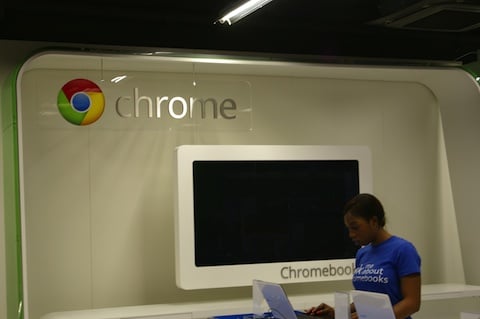 The London Google shop is the first of several opening up in conjunction with PC World/Curry's: one is opening today in Thurrock, Essex and there are plans to roll them out across the country.
According to staff, the concession will be permanent and there were no plans currently to expand to different products.
Mark Slater, category director at Dixons Retail, gushed: "Initial customer response to the launch of Samsung's Chromebook has been excellent and we are expecting a lot of customer interest and excitement now it is in-store."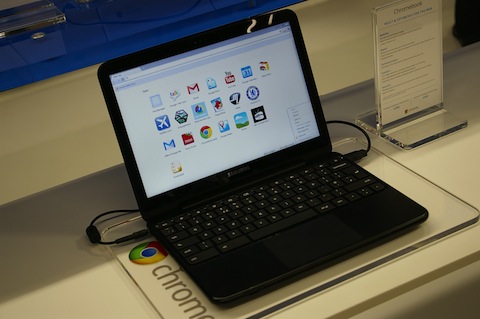 'Revolutionary' laptop looks startlingly normal
"It's the most revolutionary laptop on the market," he trilled. ®
Sponsored: Beyond the Data Frontier