Ultrabooks vs tablets: tablet demise greatly exaggerated
Makers spin skinny laptops as tablet killers. Wrong.
If you read stories on the interweb, almost all of them sourced from a DigiTimes article, that tablet sales will be whammed next year by Ultrabooks, consider.
The claim is primarily made by Acer VP Scott Lin who, not at all coincidentally, announced Acer's Aspire S3 Ultrabook in Taiwan the day before the Digitimes article appeared.
Point is, he is, as any computer company executive in similar circumstances would do, talking up the product he's launching.
Lin reckons Ultrabooks won't start to hit their stride until early next year.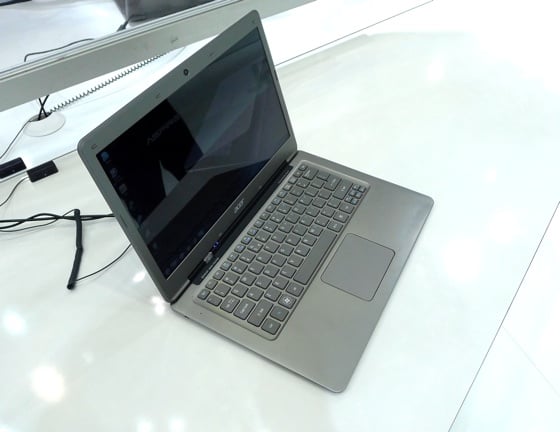 Acer's Aspire S3 Ultrabook at IFA
No surprise that, since Intel has already said second-gen models based in its 'Ivy Bridge' chippery will be out then to deliver better performance and battery life than first-gen models.
Lin also sees no reason why Ultrabooks won't account for 30 per cent of global notebook sales by the end of 2012. Again, that's a prediction already made by Intel.
But he also believes Ultrabooks will quickly eat into tablet sales.
They may very well do so, but Acer has reason to spread some FUD here. The success of Apple's iPad caught it off guard - and plenty of rival PC makers too - and it has struggled to catch up.
Back in March this year, executives admitted the company's tablet strategy was "missing". Despite announcing new models, a month later Acer bosses were running around telling anyone who would listen that fondleslab fever was fading.
Apple's sales - not to mention those of other Android tablet makers - would suggest not.
The word from market watchers who track sales to customers - as opposed to shipments from factories, which basically require you to take manufacturers at their word - is that Android tablet sales are very bursty. Sales shoot up at launch, but quickly decline once a vendors' fans have had their fix.
Sponsored: Becoming a Pragmatic Security Leader