Meter Readings
Lovely Rita, meter maid... you're fired!
iOS App of the Week With energy prices going through the roof, I recently decided that it was time to pay a bit more attention to my meter readings.
There are a few apps for reading gas and and electricity meters, but most of these seem to come from individual energy companies, such as EDF and npower, and only let you take one reading for your current bill.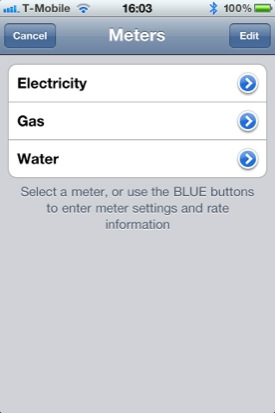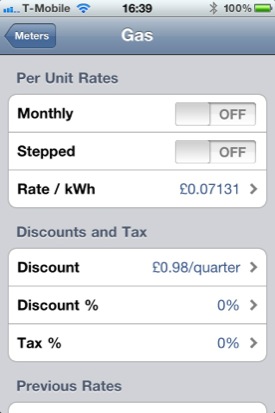 Set up your meters (left) and enter your current tariffs (right)
In contrast, Graham Haley's Meter Readings allows you to take readings for multiple meters and to track your energy use and bills throughout the year.
By default, the app sets up three meters for you – for gas, electricity and water – but you can set up additional meters too, and also link them to multiple postcodes if you're a capitalist swine who owns more than one property.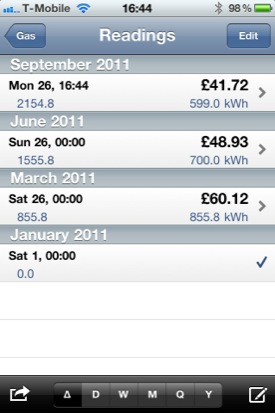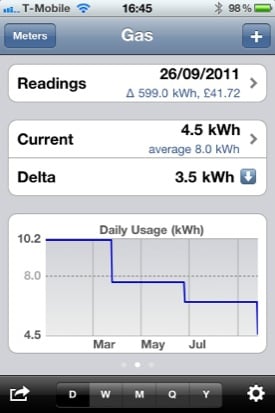 Key in readings regularly (left) and get graphs to track your energy usage (right)
You can enter your readings, energy prices, and any discounts or other costs, and the app can generate graphs detailing your energy usage on a daily, weekly, monthly, quarterly or annual basis.
You can create reminders that will tell you when it's time for another reading, and the app can even activate the flash on an iPhone 4 to help illuminate that little cupboard under the stairs.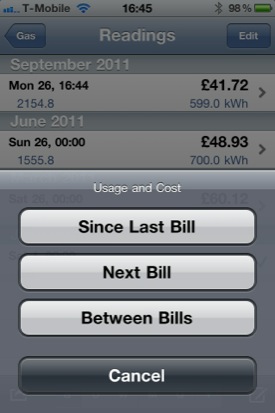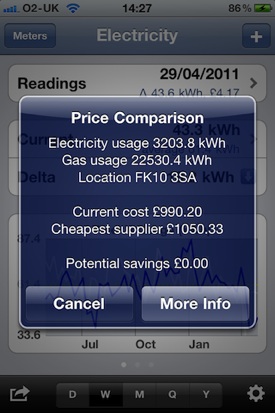 Calculate your costs (left) and see what other providers would charge you (right)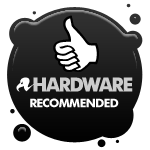 There's also an option for comparing prices from other suppliers. This turned out to be a bit more complicated than I was expecting but – unlike most app developers – Haley has put some quite thorough help files on his website to explain how the various options work.
If you want to export your meter data onto a Mac or PC then you'll have to cough up another 69p for the Backups option, which is available as an in-app purchase. However, the basic app works well as a quick and easy method for recording meter readings, and might even help me to finally switch suppliers at long last. ®
We make our selection of the best iOS smartphone and tablet downloads every Thursday. It you think there's an app we should be considering, please let us know.
More iOS App of the Week Winners

Flipboard
Bike
Hub
Adobe
CreatePDF
TextGrabber
Amazon
Kindle
Cloud Reader
Sponsored: Detecting cyber attacks as a small to medium business

Meter Readings
A simple but effective app for taking meter readings and monitoring energy costs throughout the year.