Google is set to plonk itself on the doorstep of the Silicon Roundabout next year, after the company signed a lease for a seven-floor building intended to be used as a base for start-ups and coders.
The new centre, at 4-5 Bonhill Street, will undergo a full makeover prior to the Chocolate Factory setting up shop in Shoreditch.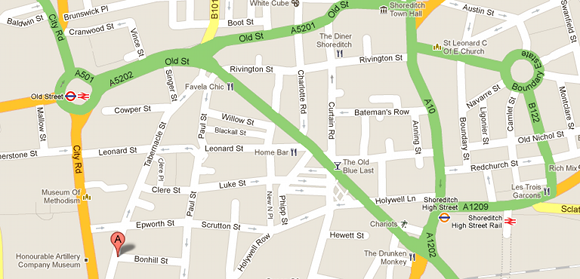 The Google Google Map...
According to an online ad offering the property for business rental purposes, the 25,392 sq ft building has "comfort cooling", under-floor trunking, a kitchenette, 24-hour access, a suspended ceiling and a passenger lift.
Annual rent is £19.50 per sq ft per annum, while rates are £8.30 per sq ft per annum.
Based on those figures, Google will pay £495,144 per year to rent the building and a further £210,754 in rates. It's understood that the company will lease the property for 10 years, bringing the total rental cost to about £5m.
"Finding a suitable building is the first major step, and we hope to announce more details about the organisations we'll work with and how they will use the space in the coming months," said Google UK's engineering director David Singleton.
"East London is already home to hundreds of innovative British start-ups, and has huge potential for economic growth and new jobs over the coming years."
Meanwhile, Google's UK headquarters will remain in Victoria, London.
The company has firmly stuck to the Media2.0 rhetoric about the new space by dubbing the Bonhill Street address a "launch pad".
The world's largest ad broker pleasingly grunted that it would commit to investing in the Silicon Roundabout, which has been repeatedly endorsed by Prime Minister David Cameron, who launched the so-called "Tech City" in November 2010.
The PM hopes the area can produce a company as good and big and brilliant as Google, here in the UK. But it clearly needs Google as a neighbour to presumably goad start-ups into actually making money out of their tech social media consultancy and SEO "specialisms".
Chancellor George Osborne unsurprisingly applauded Google's East London rental.
"It shows that we can create the right environment to attract start-ups and established high-technology businesses," he said.
All of which apparently means "Britain is open for high-tech business". ®
Sponsored: Ransomware has gone nuclear