DataDirect embulgens arrays for big data
Hopes to grunt with the big pigs in the Big Data pigpen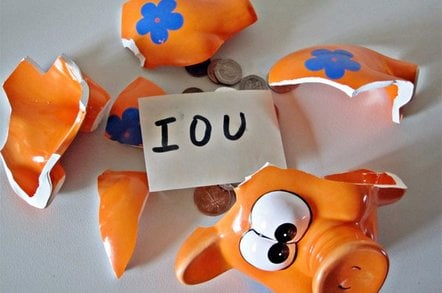 Big-data-bound DataDirect has upped its array game, with a faster array product plus a file system-running array, and boosted its exec roster.
The existing SFA10000 array gets a faster brother, the SFA10K-X. The hardware is the same as before: 4U base boxes with 60 drives and 180TB capacity. These can be stacked in a rack to produce 1.8PB. The array has a dual controller design with a 60Gbit/s link between the two controllers. Each controller runs two RAID engines and the array can ship out 16GB/sec of data, a quarter more than the SFA10000.
No hardware refreshing is mentioned by DataDirect Networks (DDN) but the company says a lot about the new parallelised and multi-threaded version of its SFA O/S, with its RAID and cache engines and data movers. This software is now VMware-certified, has large capacity support as well as the go-faster changes, and is available to existing SFA customers at no charge.
The two controllers are connected to the storage drives by a 480Gbit/s internal SAS infrastructure. The drives can be SSDS or SAS and SATA hard disk drives. There's more detail here (PDF).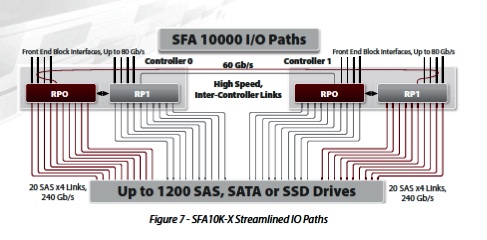 SFA10K data paths
The SFA10K array can be used as the storage in the GRID Scaler, EXAScaler and NASScaler products. There is a special version of the SFA10K-X, an embedded version called the SFA10K-E. What's embedded in it is a file system, because this array can run applications (PDF), with DDN saying that its "SFA O/S allows for embedding applications within the SFA10K-E."
App-running array
EMC is developing a capability for its VMAX arrays to run applications. DataDirect has already done this. It says the SFA10K-E can run applications, and the first ones it is offering are file systems – specifically Lustre and IBM's GPFS.
DataDirect says that this speeds up such file system operations, because the file system no longer has to make a multi-device connection across a SAN infrastructure to get to block storage. Instead it resides in the block storage. We note that the SFA10K-E has a 6GB/sec bandwidth compared to the 17GB/sec of the SFA10K-X; running the file system appears to take a toll.
Whether DDN will go further and add other apps to the SFA10K-E is an interesting point. Perhaps, with its marketing focus on Big Data, it may add data-crunching apps and produce all-in-one appliances?
Certainly the company is bulking up its capabilities as it focuses more on the Big Data area.
DDN changes
A new CFO has been appointed, Christopher O'Meara, as well as a new VP for worldwide channel sales, Bill Cox, who comes from Quantum. Rich Pappas, DDN's previous VP for OEM and Channel sales left last March. These appointments follow closely on previous VP and above level ones. DDN is talking about a massive channel expansion.
An Oracle veteran has joined DDN's board, John Dorman, and his canned statement has a distinct big data slant: "Financial organisations around the world are seeking to extract faster business feedback, increased insight, and greater value from the massive amounts of data they collect, and are seeking next-generation technologies to enable these objectives."
DDN CEO and co-founder Alex Bouzari hammered this nail further home, saying Dorman's "unique background in developing technologies for mission critical services industries is a valuable asset as DDN scales for increased demand from organisations around the world seeking transformative, enabling solutions for the Big Data era."
DDN, the largest privately owned storage company in the world, wants to break out of its HPS storage niche and play with the big boys in the Big Data pen. It thinks its arrays can ingest and deliver data faster than most other suppliers, and it wants to parlay this advantage into competing successfully against the other Big Data wannabees, such as EMC's Isilon, HDS/BlueArc, IBM, NetApp's Engenio products and, of course, the big "O", Oracle.
Big boys' playpen, big boys' rules... We'll see if DDN is big enough and strong enough to push the big boys aside and make its mark in the Big Data arena. ®
Sponsored: Becoming a Pragmatic Security Leader