Inconvenient truther hints at multiple iPhone October
Al Gore: 'new iPhones' imminent
The use of the letter "s" by a former US vice president has fueled speculation that Apple is poised to release more than one iPhone model this October.
Speaking at The Discovery Invest Leadership Summit this week in Johannesburg, South Africa, Apple board member Al Gore reportedly referred to "the new iPhones coming out next month", according to a source speaking to The Next Web.
A steaming heap of rumors has surrounded each and every iPhone rollout, and this year's mega-mumblefest has been no exception. The specific rumor that Gore's utterance strengthens is that Apple has two iPhones to release this fall: a repositioned, repriced iPhone 4 rerun, and an all-new iPhone 5.
Or, of course, Gore could simply be using the term "iPhones" to refer to the millions of iPhone 5s being cranked out of Foxconn factories at the rate of 150,000 per day.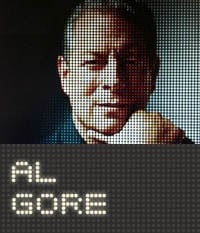 An inconvenient leaker
The "next month" portion of Gore's reported statement is more firmly grounded in whatever form of reality such a rumor might accrete, in that multiple sources have suggested early to mid-October as Apple's planned announcment date for the reputedly imminent phone or phones. News Corp.'s AllThingD, for example has pinpointed the date for the blessed event: Tuesday, October 4.
As a member of Apple's board of directors, one would hope that Gore would be privvy to the announcement date of the next model or models of his company's most profitable product – Apple earned over $13.3bn from the iPhone in its most-recent fiscal quarter, selling 20.34 million of the überpopular handsets.
Steve Jobs, when he returned to Apple at the turn of the millennium, was fond of repeating the World War II saying that "loose lips sink ships". Gore may have missed that memo, but it's highly unlikely that his labial looseness will even dent the iPhone dreadnought. ®
Bootnote
Despite the derisive, amaranthine meme, Al Gore never claimed to have invented the internet – although he did pat himself quite firmly on the back for his work in securing funding for its development.