Google Android Market fee favours big brands
Andy Pad maker coughs to using unlicensed app store
Andrew Kerry, head of the company behind the Andy Pad cut-price Android tablet, has coughed to implementing the Android Market on his product without Google's permission.
But, he insists, the move was forced upon him by what he claims is a tacit "tie up" between Google and "big brands" in the tablet space that has "strangled the market" and steered punters to pick their products "over smaller brands such as Andy Pad".
"There is a David and Goliath situation here," wrote Kerry.
Kerry's comments imply Google wants rather a lot of cash for the rights to Android Market, and only the Samsungs, Motorolas and Acers of this world can afford to participate.
"We felt this was unfair, not just towards us as a manufacturer, but to the customers that cannot afford to spend hundreds of pounds on these higher end devices that can actually be produced for the customer at a much cheaper price."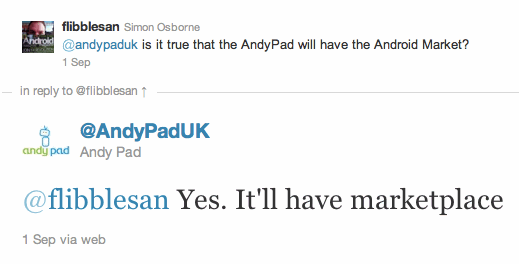 Ahem
He could have left it out surely? No, he says. "It is very important for tablet/mobile devices to have an app store installed. The end-user experience can be seriously harmed if this kind of software is not included."
Going forward, AndyPad will gain Amazon's Marketplace, Kerry said, prompted presumably by the initial-but-brief roll-out of the Amazon app store globally yesterday.
Meanwhile, Kerry will continue to seek to get Android Marketplace officially licensed for the Andy Pad.
That may not be enough to calm worried Andy Pad owners who fear Google might remotely zap apps they have downloaded.
Others say Andy Pad should have come clean about this sooner, saying they might not have bought the tablet if they had known.
Kerry insists his company has never stated that Android Market is included in the Andy Pad. The implication: punters should view the Market's presence as a bonus, not a key part of the tablet's spec.
Maybe, but this official Tweet from Andy Pad shows that it has in the past promised Android Market support. ®
Thanks to Blooey for the tip