Hunt for long-lost Apollo 10 moon lander adrift in space
UK schoolkids to search skies for 'Snoopy' module
Kids have been invited to join the hunt for a NASA mooncraft that has been lost in space for more than 40 years.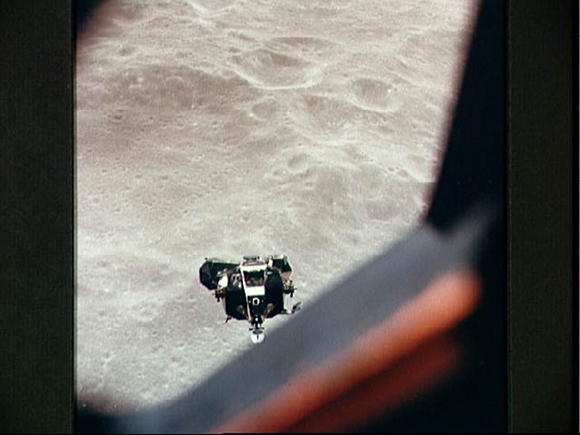 Snoopy as seen from Charlie Brown. Picture by NASA
Astronauts jettisoned the lunar module Snoopy into solar orbit from Apollo 10 before splash-landing in the Pacific in command module Charlie Brown in 1969. NASA had Snoopy in its sights for a while, but eventually lost track of it and now amateur astronomer Nick Howes is challenging schoolchildren in the UK to find it.
In a dry run for the successful Apollo 11 moon-landing mission, astronauts Thomas Stafford, John Young and Eugene Cernan aboard the Apollo 10 did everything Buzz Aldrin and Neil Armstrong later did, apart from actually land on the moon. The trio also set the record, which still stands, for the fastest human beings have ever flown – 25,000mph.
Snoopy did an eight-hour lunar orbit, descended and ascended, re-docked and was jettisoned towards the Sun along with the S-IVB engine before Charlie Brown returned to Earth.
Nick Howes believes Snoopy is still out there, and he wants to get kids to find it using the Faulkes Telescope Project run by Glamorgan University. The telescopes are in Hawaii and Australia, so students can look for Snoopy during their school day in the UK.
"We know full well we may never find Snoopy, but if we don't try, we'll never succeed," Howes said. "Plus we'll be doing great science anyway."
Howes, a former senior test engineer for Yamaha, will be aided in the hunt by Mike Loucks of US-based Space Exploration Engineering and former NASA ground staff, as well as the kids of course.
The project hopes to involve hundreds of pupils and to at least discover some new asteroids and comets if it doesn't track down Snoopy. ®