LOHAN deluged with Reg readers' interjections in REHAB
Revised hypobaric chamber plan for your delectation
The Special Project Bureau's elite Hypobaric Evaluation And Design (HEAD) team has spent the last couple of days contemplating your suggestions as to how we might get LOHAN to suck more more effectively.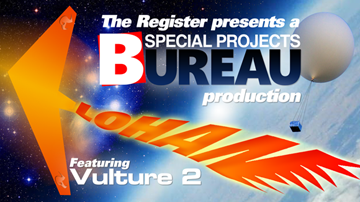 To rewind a bit for Low Orbit Helium Assisted Navigator virgins, we're planning to build a hypobaric chamber to test whether a proposed solid rocket motor for our Vulture 2 spaceplane will fire at low temperature and pressure.
Our initial concept for the Rocketry Experimental High Altitude Barosimulator (REHAB) didn't provoke too many howls of derision, but there were plenty of practical suggestions for improvements.
We've taken these on board, and here's our revised plan: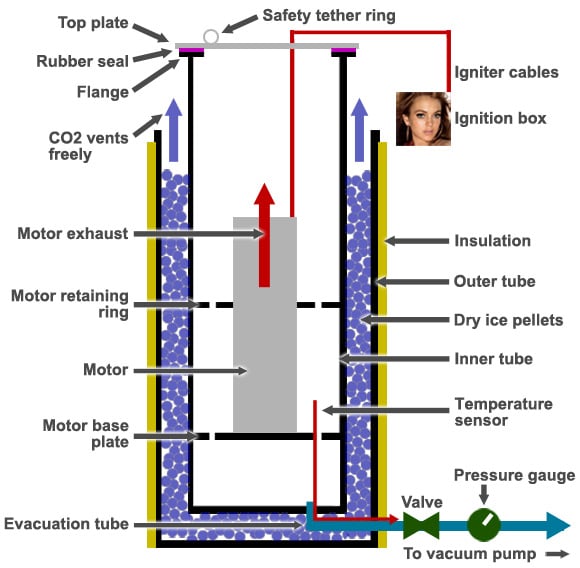 Working more or less from top to bottom, here are details of the revisions, and a couple of clarifications:
The top plate has a safety tether ring, or similar, so we can tie it to something and prevent it going ballistic should an explosive event occur when the rocket motor fires.
The plate sits on a silicone rubber seal (good to -70°C, or thereabouts), and a flange – which provides a wide base and prevents the seal from being sucked into the inner tube.
The ignition wires pass through the top plate, to avoid the hassle of sticking them through the curved wall of the inner tube.
The dry ice pellets are packed into in the space between the inner and outer tubes, and vent freely into the atmosphere. There is no dry ice in the inner chamber.
The evacuation tube passes though the inner chamber base, for the same reason as applies to the ignition wires.
The inner tube base is also the entry point for a temperature sensor cable.
The shut-off valve is between the chamber and the pressure gauge. It'll be closed prior to the motor firing to prevent damage to the gauge and/or vacuum pump.
Some of you demanded a camera set-up to record the internal action, which we're still mulling. We have to balance what footage it might actually get against the amount of work required to provide a viable viewing port. We shall see.
Regarding materials, we're keeping an open mind. It is a case of seeing what's readily available at a reasonable cost. Watch this space... ®