Big Apple fake Apple stores agree to rat out suppliers
Yes it's made in China, that doesn't mean it's genuine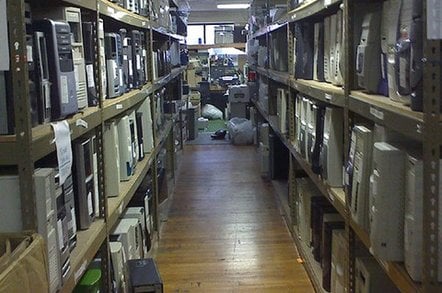 A New York gadget shop called Apple Story has agreed to change its name, hand over any counterfeit stock bearing Apple logos or slogans, and name its dodgy suppliers as part of a court settlement with the fruity tech giant.
Apple Story and another store, Fun Zone, were taken to court last July by Apple for trademark infringement. Cupertino representatives entered and seized products at the two stores in Queens, NY, on the same day Apple's lawyers launched the legal action.
As part of the settlement, which is subject to a judge's approval, the iPad maker will now get the rest of the stock. Apple Story must also take down a giant iPhone from its window.
In the court papers for Apple Inc v Apple Story Inc, Apple accuses Apple Story and Fun Zone of improperly using its trademarks, using names confusingly similar to its trademarks ("Apple Story", anyone?) and giving the impression that their Apple-branded stock was official Cupertino produce.
Fun Zone and Apple Story have agreed to hand over to Apple all material listed in their inventory with the word Apple: that includes headphones, cases, labels, signs, prints, packages, wrappers, pouches, receptacles and advertising matter.
They've also agreed to never, ever do it again. Ever.
This is just the tip of the iceberg for Apple though: the real threat for them lies in the manufacturers of the fake kit - mainly located in China.
To help them in their fight against Chinese counterfeiters, Apple has demanded that the defendants turn over access to their business email accounts, which could reveal clues about their suppliers, distributors or customers, but it's likely to take more than a few email addresses to make an impact on the Chinese knockoff industry. ®