Star Wars: The Complete Saga Blu-ray disc set
Buy it, you will
Sound points
The soundtrack mix on all six films is DTS Master Audio 6.1. While the tone and characteristics change in line with available budgets and technologies, they're never less than thrilling. John Williams' classic score, coupled with the distinctive audio FX and general sound design conspire to create a theatrical sonic experience that is genuinely unique.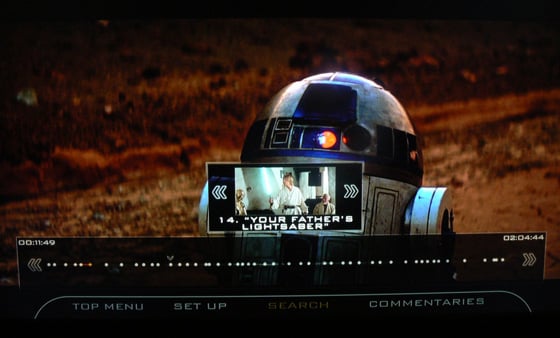 Scene menu
From a technical point of view, the last two movies (Episodes II and III) are clearly the best in the box. Both Attack of the Clones and Revenge of the Sith offer peerless video quality with bit-perfect, big theatre audio.
I was impressed when I first saw them presented in a digital theatre, and the impact remains undiminished here. Their colour fidelity and sonic detail borders on the miraculous – the stories I couldn't care less about. If you want to show off your home cinema to visiting Jawas, these platters will certainly do the job.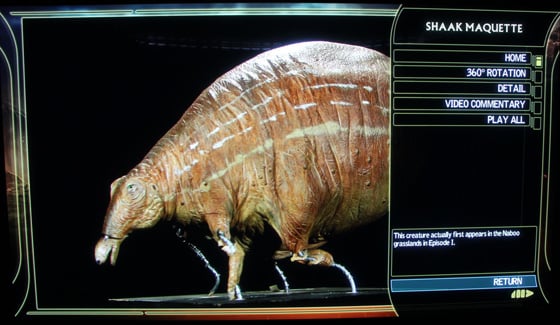 Props in depth
Three of the nine BDs in the set are devoted to extras. The first two bonus discs are divided by trilogy and broken down by episode. You can peruse interviews – typically an overview of the film plus star chat – and deleted scenes, as well as get in-depth with props and concept art. The discs are rather slow to load, but do contain some lovely trivia.
Menus are neatly animated throughout. However, I wasn't that enamoured with the way certain assets are handled. The interview elements, which contain fascinating behind-the-scenes footage, are presented in a window rather than full-screen. This affectation is plain irritating. On the plus side, it is nice to rotate models and props and zoom in for fetishistic detail.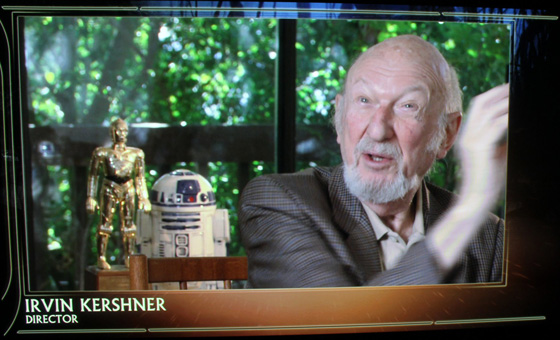 Windowed interviews
The third bonus disc is the Saga's only real disappointment. While it offers no fewer than seven documentaries, these are of assorted vintages and variable interest. The disc inexplicably concludes with a feature-length showreel of spoofs and third-rate references that have cropped up on TV shows and in movies over the years.