Coraid delivers flash-in-an-Ethernet-box
MLCing it for all they're worth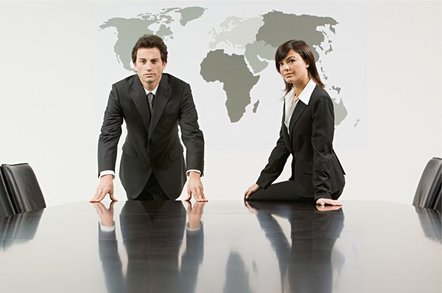 You can now use Coraid's simpler-than-iSCSI Ethernet protocol with a networked flash storage array.
At VMworld 2011 Coraid announced its EtherFlash product, a combination of its EtherDrive SAN enclosure, CorOS v6.0 software, ATA-over-Ethernet (AoE) network protocol, and commodity solid state drives (SSDs).
EtherFlash delivers almost 200,000 IOPS across its 10GBitE link, with a latency of less than 200 microseconds. There can be either 24 or 36 SSDs in an EtherFlash enclosure. The SRX3500, for example, is a 2U enclosure holding 24 x 2.5-inch drives, and 21 of these can fit in a standard rack.
A Coraid spokesperson said: "We have multi-level cell (MLC) flash in 100, 200 and 400GB capacities and single level cell (SLC) in 100 and 200GB capacities. SSD drives are 2.5-inch form factor; they can fit in our 3.5-inch chassis when placed in a caddy."
A rackful of the flash shelves will provide more than 3 million IOPS according to Coraid, and 200TB of capacity.
An EtherDrive enclosure could include flash SSDs and hard disk drives with, for example, half a dozen SSDs used for VDI boot images and 30 SATA disk drives used for storing bulk data. An EtherDrive enclosure looks like a direct-attach SCSI drive and can be configured in less than a minute according to Coraid.
This product is another example of flash arrays being used to supplant high-speed (15,000rpm) disk drives on the grounds of higher performance, lower electricity usage and a smaller data centre footprint.
EtherFlash product is available this month starting at less than $30,000 per shelf. ®