Adobe CreatePDF
PDF conversion from the creator of PDF
iOS App of the Week There are plenty of PDF viewer apps available for iOS devices, so it's a little surprising that it's taken this long for Adobe - deviser of the Portable Document Format - to release this CreatePDF app.
Its job is to convert documents in any of a variety of formats - Word, Excel, PowerPoint, OpenOffice, Photoshop, Illustrator, InDesign and more native formats, and all the usual standard-format suspects - into PDF files.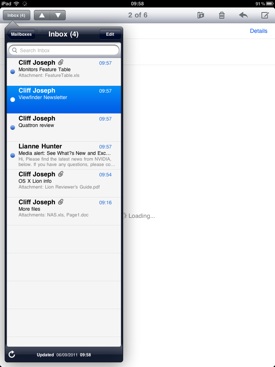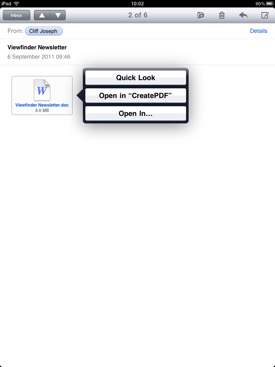 Open your email message (left) and select the attachment to open it in CreatePDF (right)
The app works well, but does so within a fairly limited remit. The first thing I noticed is that you don't use the app itself to open documents that are already stored on the iPhone or iPad. Instead, you have to use the 'Open In...' command in other apps in order to send files to CreatePDF.
iOS' own Mail app and Dropbox both those apps have an 'Open In...' command, so you can quickly send files into CreatePDF from these.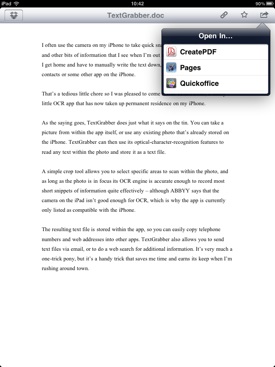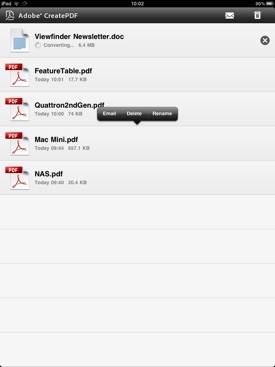 Of open a file from Dropbox (left). The completed conversions are listed in CreatePDF (right)
However, not all apps have that 'Open In' command, and I actually found that I had to email a QuickOffice presentation on my iPad back to myself in order to receive it in Mail and then send it to CreatePDF for conversion.
Thankfully, the subsequent conversion process is accurate and gives you good-looking PDF file that you can then store on the iPad or iPhone - CreatePDF does list files it has converted - and email them to colleagues.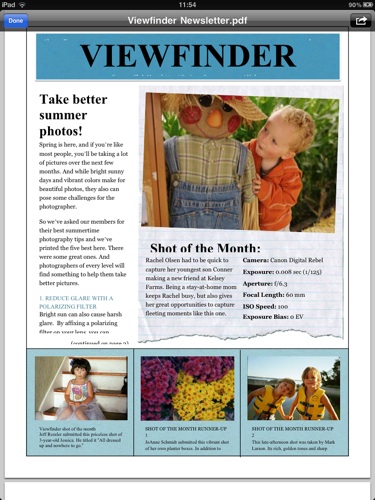 Finished
As I say, the app can convert a reasonable – but hardly exhaustive – range of file formats. However, I'd still like to see it support a wider range of then - including the stack of Keynote presentations that someone recently sent me – and also to have a more straightforward means of importing and opening files before it becomes the primary PDF app on my iPad.
It could do with being cheaper too: seven quid is a lot to ask for an app that converts files from one format to another. ®
We make our selection of the best iOS smartphone and tablet downloads every Thursday. It you think there's an app we should be considering, please let us know.
More iOS App of the Week Winners

TextGrabber
Autodesk
Fluid FX
Amazon
Kindle
Cloud Reader
British Library
19th Century
Books
Björk
Biophilia
Sponsored: Beyond the Data Frontier

Adobe CreatePDF
Its PDF conversion works well, but its options for importing files could be much more streamlined and straightforward.