HP-UX stretches over new Superdome 2
32 sockets, 128 cores, no waiting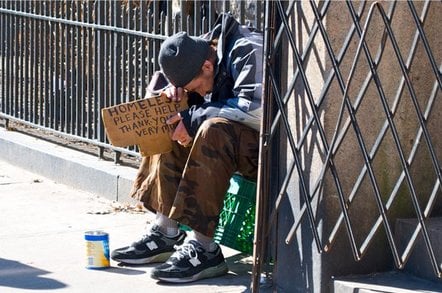 HP was awfully quiet about shipping its 32-socket Superdome 2 server last month. Neither have they made much noise about their biannual update for the HP-UX 11i v3 operating system that runs on their Itanium-based servers.
Perhaps they were too busy buying Autonomy for $10.3bn and trying to finesse a spin-off of their PC business.
HP sources, however, have now confirmed to El Reg that the long-awaited 32-socket, 128-core versions of the Superdome 2 servers based on Intel's quad-core "Tukwila" Itanium 9300 processors did, indeed, start shipping in August.
The HP-UX 11i v3 September 2011 update, which first shipped to customers on the first of the month but which was quietly announced this Tuesday, allows for HP-UX to span the Superdome 2's 128 cores as a single system image, or to carve them up into various kinds of virtual machines. (The September 2011 HP-UX refresh is sometimes called Update 9.)
To drill down into the features and updates, check out the release notes for the September 2011 update as well as the QuickSpecs for HP-UX 11i v3.
On the virtualization front, the September 2011 update offers a new kind of virtual private server (akin to a Solaris container or an AIX workload partition), what HP used to call HP-UX Secure Resource Partition and now simply calls an HP-UX container.
HP already supported workload containers, which carved up different HP-UX images atop a single kernel and file system to run applications, as well as HP 9000 containers, which run applications compiled for the company's earlier PA-RISC processors atop an emulation layer inside a container. Starting with the latest update to HP-UX 11i v3, however, there is now a system container that has more of the look-and-feel of a virtual machine than a container typically does, but without all of the overhead or the need to run multiple kernels and file systems.
An HP-UX system container has a unique host, node, and domain name, its own local users and groups, LDAP, password, file system view and services, NFS client support, and auditing. Various tools that are part of the Integrity virtualization stack, including Integrity Virtual Machine Manager, Accelerated Virtual I/O, Insight Dynamics–VSE for Integrity, and Global Workload Manager all got bug fixes and tweaks as part of the update.
Power plays and driver tweaks
Update 9 for HP-UX v3 11i can now do power capping and power regulation on the Tukwila-based Integrity BL860c i2, BL870c i2, and BL890c i2 servers, and data center power control (DCPC) on larger Superdome 2 machines. HP has also rolled up a whole series of new drivers with performance and "quality improvements" for 10 Gigabit Ethernet, InfiniBand, and Fibre Channel adapters, as well as for Smart Array RAID and SCSI disk controllers and SATA DVD drives.
On the file-system front, HP has updated the CIFS file server to the latest Samba 3.4.3, and is now certified to serve up files to Microsoft's Windows Server 2008 as well as Windows Vista and 7 on the desktop. HP has also certified the VxFS file system and VxVM volume manager from Symantec (formerly Veritas) at the 5.0.1 release level to work with HP-UX 11i v3 Update 9.
The Veritas file system, by the way, was bundled with the HP-UX operating system after HP decided in the wake of the Compaq acquisition that the TruCluster clustering and file system extensions to Tru64 Unix for VAX and Alpha machines did not mesh well with HP-UX after all, as had been planned.
The higher-end OnlineJFS variant of VxFS, which has defragmentation and resizing support, is the default file system for the Data Center, Virtual Server Environment, and High Availability variants of HP-UX; the base VxFS file system comes with the Base HP-UX license.
The HP-UX September 2011 rollup includes a slew of other updates to open source tools used in the operating system, including OpenSSH, OpenSSL, and the Kerberos client. The IP filtering and host-intrusion detection system have been patched as well.
HP's Wildebeest Debugger and HP-UX linker and libraries have also been tweaked, and so have the Java runtimes for JDK 5.0 and 6.0, which have been brought up to speed with the official Oracle JDKs, including defect and security releases.
The one thing that has not changed with the HP-UX update is the price, which was slashed back with the March 2011 update. But HP has added a new tier to cover the larger Superdome 2 systems. HP charges per socket on Tukwila-based machines and per core on prior machines using either Itanium or PA-RISC processors. Here's how the prices lay out for the various HP-UX tiers and versions: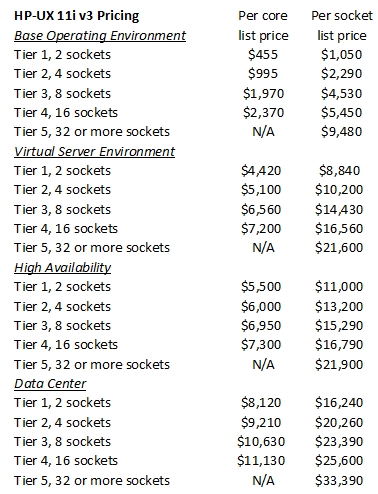 HP-UX 11i v3 pricing
The Base OE includes the core HP-UX stuff, plus nPartitions (hardware partitioning), an Apache Web server and Tomcat server, NFS and CIFS, LDAP, and the base Veritas file system and volume manager. The High Availability OE includes the OnlineJFS file system upgrade, and Serviceguard system clustering. The Virtual Server Environment OE adds all the virtualization goodies, but none of the clustering, while the Data Center OE is the whole shebang.
Note: For legacy servers, the Tier 4 HP-UX licenses were for servers with 16 or 32 sockets in the Superdome 1 family, while the new Tier 5 was added for 32 socket servers in the Superdome 2 line. Yes, that means HP is charging a premium for the 32-socket scalability in the current top-end Superdome 2 machines.
This may seem counter-intuitive, given the fact that HP's top brass admitted to Wall Street last month that sales in its Business Critical Systems division, which peddles Itanium-based servers, were down 9 per cent to $459m because some customers canceled orders for Itanium 9300-based machines while others delayed them. But all of the Unix vendors, and certainly the mainframe makers and the few remaining proprietary system makers, charge a premium for their systems software as the SMP system scales up.
That's just the way it is, and it is just another way you pay for vertical scalability – and why companies often try for horizontal scalability, clustering smaller systems together. Of course, the thing to remember is that the largest customers also tend to get the deepest discounts, so the perceived difference in price probably does not reflect the actual different in price on the street between midrange and high-end systems. ®