Zalman ZM-VE200 portable virtual Rom drive
It's an external HDD! It's an optical drive! It's ISO heaven!
Geek Treat of the Week Zalman's external hard drive case is a bit different from most. Yes, it works like a standard drive case - slip in a 2.5in hard drive or SSD, and hook up the extra storage to your computer over USB 2.0 or eSata - the ZM-VE200 supports both.
It's a nice-looking unit too, though - again - that's not uncommon. Ditto the small LCD that gives you a drive status readout.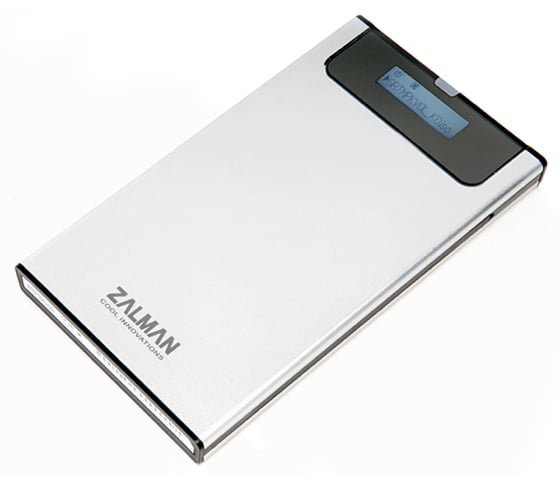 An attractive external drive case
No, the trick up the ZM-VE200's aluminium sleve is an optical storage mode that allows the host to mount it as a CD or DVD.
Quite a bit of software - operating systems in particular, but also utilities that need to boot their own OS to run - is delivered in the form of ISOs. These are images intended to be burned to an optical disc.
Now, if you're a netbook user, you may not have an optical drive, certainly not a built-in unit. Even if you do, or your notebook has one, you'll want to re-create a new disc with every update.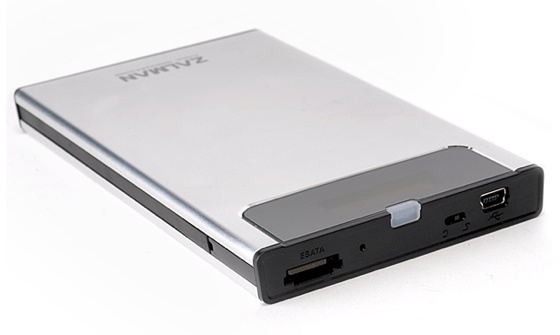 USB 2.0 and eSata connections are supported
Burning takes time too, either because you select a low speed to avoid the risk of creating a coaster - a dead disc - or you go a at max speed and churn through blanks DVDs until you get one that passes the verification test.
The ZM-VE200 lets you store all your ISOs in one place, and adding a new one is just a matter of copying it over into its _iso folder when it's in HDD mode.
The case has a jogdial on the left side. Press it up while you connect the drive and the unit will start up in ODD mode. You then use the dial to flip through the list of ISOs on the drive, pushing the wheel in to select the one you want. It then mounts on your desktop, or is ready for you to boot your machine from.

Flip the jogdial to select your chosen ISO
You can't really do it on the fly - selecting the right ISO from a long list will take you longer than the average Bios bootloader allows you. So select the right one, then restart your machine and you'll get it on the boot list.
I was soon starting my Asus netbook in Jolicloud, Ubuntu - and a range of other ISO-stored operating systems I downloaded to try. And not a singled DVD was required. Or multiple USB sticks.
Incidentally, out of the box, the firmware requires an NTFS-formatted drive to be inserted, but Zalman has separate firmwire that supports FAT32 and ExFat. Until you can make the change, using a PC, the ZM-VE200's not too useful for Mac users.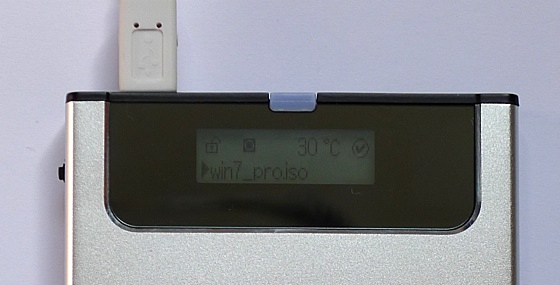 Drive data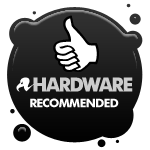 There are flaws: it doesn't remember your ISO choice after the power's cut. And there's no way to reverse your choice other than powering down and re-selecting.
Still, it provides a way of shuffling multiple ISOs in an easy way, and is only £33 before you add your storage - so you can pick as much or as little as you require. ®
Many thanks to LinITX.com for the review sample
Geek Treat of the Week is published every Monday. Got a handy gadget in mind you'd like us to consider? Please let us know
More Geek Treats

Logitech Touch
Lapdesk N600
Osun
MushRoom
Green Zero
Audio Pro WF100
wireless streamer
Mackie
Onyx Blackjack
Mobee
Magic Charger
Sponsored: Detecting cyber attacks as a small to medium business

Zalman ZM-VE200 portable virtual Rom drive
Slimline 2.5in HDD/SSD case that will load ISO images and boot as an optical drive.