Solwise Net-3G-A10 HSPA Wi-Fi router
Dangle more devices off your dongle
Accessory of the Week So the Solwise-sold, made by HameTech A10 isn't a sexy looking as Three's MiFi, but it's the same proposition: a 3G modem with a built-in Wi-Fi router.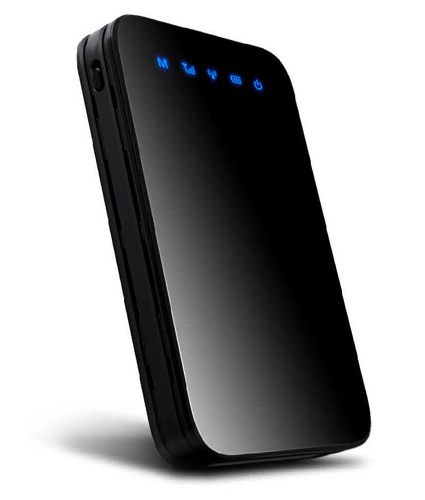 It's an easy way to bring internet connectivity to devices that lack USB ports or have no cellular links of their own. Or, like me, you travel overseas and are keen to use a smartphone's net-connected apps without getting stung by roaming charges but don't want to mess around swapping Sims.
Solwise's offering is 80 quid, which is slightly more than you'll pay for a PAYG MiFi from Three, say. Contractually tied units are cheaper still, but you'll need to cough up regularly. For a lot of folk, these are occasional, not regular use devices.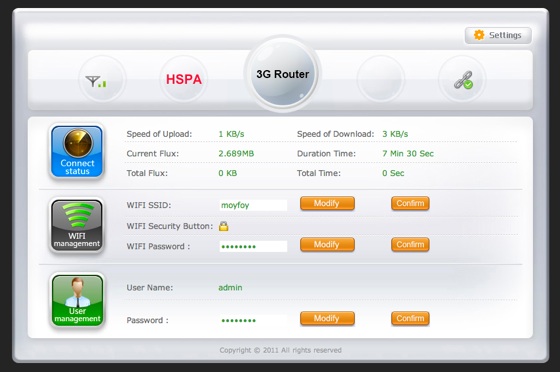 It's the usual web-based set-up system
And the A10W is unlocked, so it'll work with Sims from carriers the world over. I tried it here, though, hanging a laptop, an iPad and my phone off it, though it'll support up to 20 devices over Wi-Fi, Solwise says.
The A10W has 802.11n, but it's 2.4GHz only. It has two antennae for speeds up to 150Mb/s, depending on the connected devices' own Wi-Fi adaptor configurations.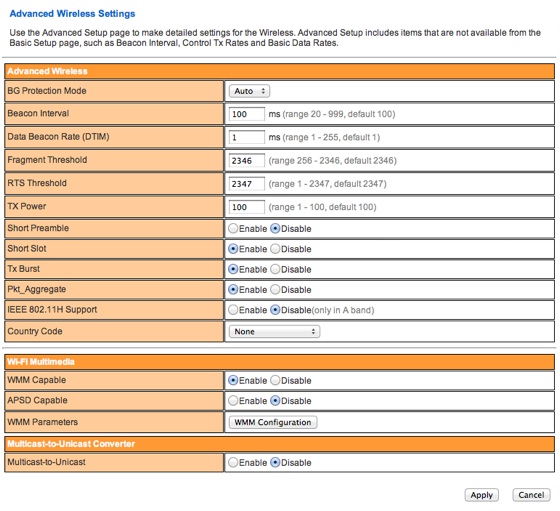 You want config options? It's got 'em in spades
It has the usual browser-based admin system that features all the router settings you'll need, and then some. And more still, for good measure. Fortunately, it's easy enough to set up a basic hotspot with WPA 2 for security.
There's a removable 1500mAh battery on board, charged through a Mini USB port. The cable can also be connected to your computer, allowing you to use the modem dongle-fashion. A nice touch is the physical on/off switch, so the battery isn't quietly draining when you're not using it.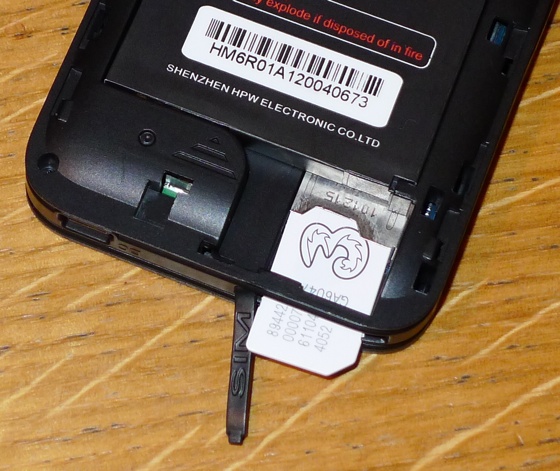 The Sim card can be inserted with the back cover on, but you'll need to remove the cover to get the card out again
Wi-Fi speed is reasonable, though the speed of the net link will depend on which network you're using and where you're trying to connect to it. Ditto the battery life. It could be more sensitive to low cellular signals.
And, at 94 x 62 x 15mm and 88g, it's very pocketable, though one consequence of such a low weight is the gadget's cheapish feel. But you don't buy something like this for its looks - just to switch on and shove back in your pocket or bag. Don't remove the backplate too often - rough handling is sure to snap one or more of the tiny clips that lock it into place.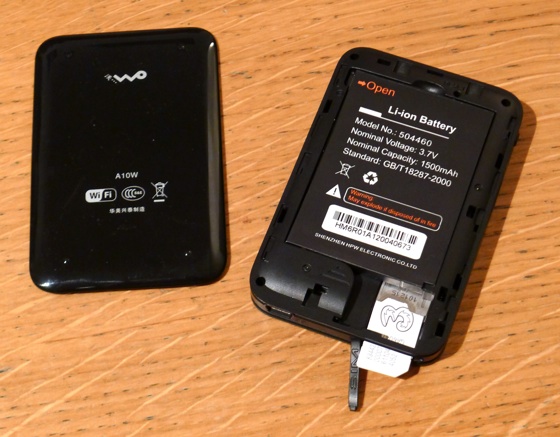 Take care with the back plate, it's not as robust as it might be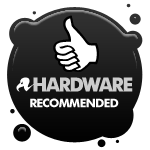 You'll need to take the back off to swap out the Sim. You can slide it in through an covered slot on the side of the modem, but you can't get it back out that way, only by pushing it out from within.
On the whole, a decent bit of kit to have if your smartphone doesn't already have a 3G sharing option, or you want to use a device that you can configure to the nth degree. ®
Reg Hardware chooses its Accessory of the Week every Friday. Got one in mind you want us to consider? Please let us know
More Accessory of the Week Winners

Vogel's
RingO
Motorola
Atrix
Lapdock
iLuv ICK826
iPad 2 case and
Bluetooth keyboard
Octovo
Solis e-book
Reader Lamp
Exogear
Exomount

Solwise Net-3G-A10 HSPA Wi-Fi router
Handy HSPA modem with Wi-Fi connectivity for up to 20 devices to share.