Crystal Video wireless HDMI kit
5GHz WHDI video streaming made easy, ish
Almost zero config
I was keen to try the stick with a tablet, and managed to get a BlackBerry PlayBook connected up easily enough, though I had to use a mains transformer to provide the USB current - not the wireless solution you might hope for.
Both the dongle and receiver have only two LEDs by way of display, and unique among consumer electronics kit - as far as I can remember - neither of them is a power indicator. One light goes on when a connection is made, the other when video is being transmitted, so when the power is connected nothing happens at all.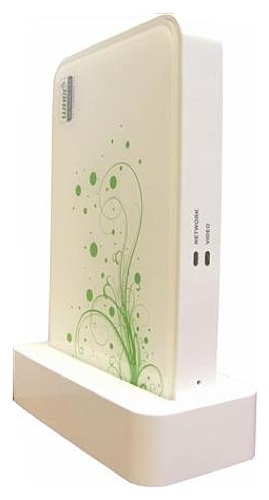 The receiver works best when mounted vertically
But once both ends have power the "Network" indicator illuminates, and when video and audio is sent into the dongle it faithfully renders at the other end. The quality is all I could hope for. Despite passing two walls to get to my screen, the 5GHz signal didn't waver at all - until a third wall was interposed, at which point it dropped out completely.
Controls are limited to a single button on the stick, and an IR window on the receiver for the supplied remote control, one of the credit-card-sized models you tend to get with this kind of kit. It works, but you wouldn't want to use it very often.
Fortunately you won't have to, as the devices don't need much configuration.
The button is supposed to downgrade the picture quality to boost the range, but I couldn't see a lot of difference in either when it was pressed.
Verdict
The core proposition - connecting HDMI devices to send HD video -works impressively well. Sadly, the rest of the experience is less fulfilling and the product feels a little too focused on the technology and not enough on the experience.
If you really need to send HD video wirelessly then this is a good way to do so. But you might want to wait until some of the more-trusted brands get involved. And hope that the price comes down too. ®
More Streaming Media Kit Reviews

Cambridge Audio
Sonata NP30
Audio Pro
WF100
Ten…
wireless
speakers
HTC
DG H100
Aavara
PCE122
Sponsored: Detecting cyber attacks as a small to medium business

Crystal Video wireless HDMI kit
Dongle and receiver combo that streams 1080p HD video from one HDMI port to another over a 5GHz wireless link.