RIM BlackBerry Bold 9900
The latest in riot gear
Social awareness
The browser is certainly speedy, both by 3G and broadband over Wi-Fi, throwing up pages in double quick time. But it didn't always display them as well as it might – when you pinch to zoom on a page, it won't automatically run text around the screen, so you can end up doing a lot of sideways scrolling. With no Flash support some site elements won't work, but that's not a disaster, as Apple has proved with its avowedly non-Flash iPhone.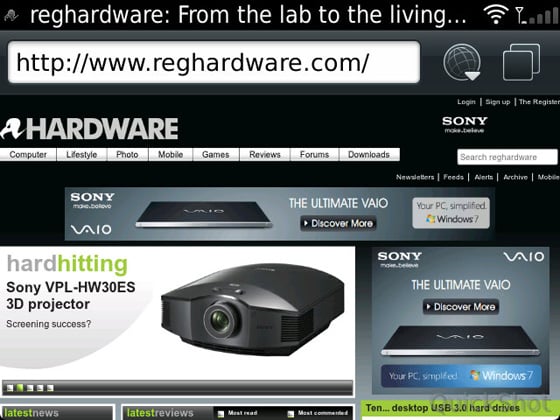 Browser
You can watch films on the dinky 2.8in screen, but sharp as it is, it's never going to look as good as a full-face display. Still, there are three options to stretch the film to fit the screen's dimensions which helps. A bit. The music player includes a rather heavy-handed 12-setting equalizer and while the supplied headphones aren't bad, they have trouble handling the lower end.
There's 8GB of storage on board to accommodate media habits and it comes with a 2GB microSD memory card which can be boosted to 32GB. The 1230mAh battery proved to be OK but not outstanding, delivering a little over a day of fairly heavy use. There didn't seem to be any problem with call quality, and voices rang out clearly from the loudspeaker.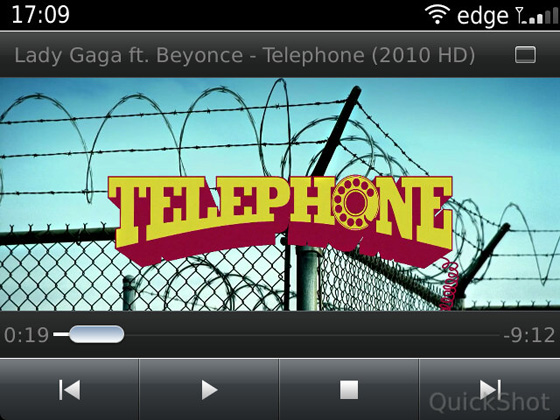 Movie viewer
Among the phone's other features, BlackBerry Messenger 6 is RIM's latest version of the instant messaging service beloved by teen rioters across the country and now offers the chance to chat while you're in some apps, including various games.
For other types of chat, the Social Feeds app pulls together your social networking updates into a single stream. Documents To Go is on board, allowing you to create and edit Word, Excel or PowerPoint documents. Pretty much everything on the Bold 9900 works well, but RIM's Achilles heel is its App World store. It's fine in principal but lags well behind the other big players in terms of the numbers and diversity of apps available.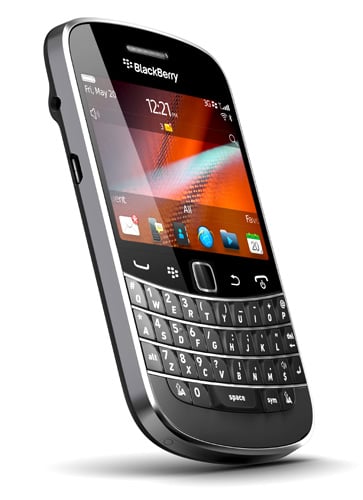 More of the same, but faster?
Verdict
The Bold 9900 is a very fast, very capable BlackBerry, but it's essentially still the same device that RIM has been selling for years, with a few improvements to keep it up to date. If you like BlackBerry handsets, you'll love it, but it's unlikely to win over many new fans. ®
More Qwerty Smartphone Reviews

HTC
ChaCha
Nokia
E6
HTC
7 Pro
Nokia
E7
HTC
Desire Z
Sponsored: Beyond the Data Frontier

RIM BlackBerry Bold 9900
A 2.8in touchscreen and hard Qwerty keypad combo, with the latest BlackBerry 7 OS and BB Messenger 6, plus a 5Mp camera.