Sharp Aquos Quattron LC-40LE831E 40in LED 3D TV
Yellow pixel net set
Internet service provider?
Playing some MP3 files did produce a fairly good sound – with more volume than last year's model. However, the built-in 15W sub-woofer doesn't seem to make a big impact on the sound, and higher frequencies tend to dominate as you crank up the volume.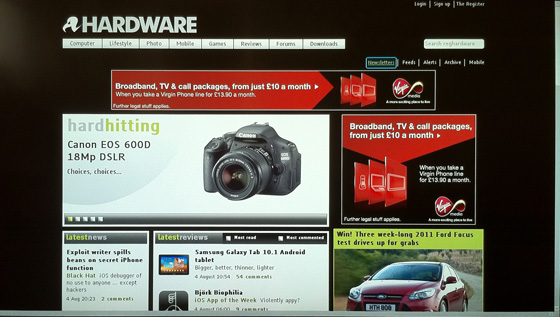 Web browsing
I was also a little disappointed by the set's on-line features. I liked having the wireless adaptor for connecting to my home network, but Sharp only offers a fairly routine selection of on-line services such as YouTube, Daily Motion and Twitter.
There's no BBC iPlayer, and although the 40LE831E does include a full web browser I wasn't able to access the iPlayer through the main BBC web site. Oddly, the manual refers to a 'video store' for film rentals, but that doesn't seem to be available here in the UK.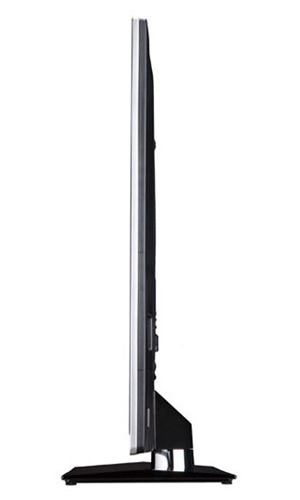 Web TV offerings leave room for improvement, but the picture is a peach
One criticism I had of the original Quattron was of its power consumption, which peaked as high as 120W at times. Sharp now boasts a much lower power consumption of 67W – although I found that it occasionally fluctuated up into the mid-70s. Its Standby mode didn't even register on my ammeter, so there's clearly been quite an improvement in energy efficiency.
Verdict
If you're concerned about Internet connectivity, then rivals such as Samsung offer a more comprehensive range of on-line services. However, I remain a fan of the rich, vivid images produced by Sharp's four-colour Quattron technology and reckon that it's still well worth considering as long as you've got a Sky HD box or Blu-ray player that can feed it a nourishing diet of high-quality HD content. ®
More TV Reviews

Sony
Bravia
KDL-40CX523
Panasonic
TX-P65VT30
Samsung
UE40D6530
LED 3D TV
LG
42 LW650T
Ten…
40-42in
net connected HD TVs

Sharp Aquos Quattron LC-40LE831E 40in LED 3D TV
Slimline, four-colour Internet TV with 3D viewing.