The Cheeky bar, in Georgia USA, now has a self-service bar known as the "wall of beer" where patrons can help themselves to a drink with the wave of a card.
The card is simply an RFID tag which identifies the buyer, but the system measures the amount of alcohol poured as well as requiring each drinker to prove their sobriety to the barman every 64 ounces (three pints or so). The great thing is flexibility, as RFID Journal explains, but one can't help wondering if it's a troubling trend too.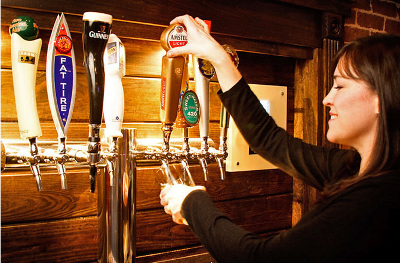 She's pouring her own beer, but there'll be no barman handy to light her cigarette
The fluid control system is supplied by DraftServ, and is an evolution from tabletop systems which have been around for a while. Such systems deliver a specific beer, in measured quantities, to a party's table, but they also require pipes laid under the floor, and limit the options once at the table.
The "wall of beer" approach allows drinkers to select their beer, and even try a small glass of something different, with all the costs totted up for payment at the end of the evening. Users can pour themselves any quantity of drink, though they have to demonstrate that they're not drunk every three pints or so.
In use it seems that users often pour themselves smaller drinks, to avoid the lager getting warm or going flat, but that they drink more overall, which is good news for the bar. Most importantly it means fewer bar staff, as the customers serve themselves.
Pulling a pint of proper beer is, of course, more complicated. British beer doesn't lend itself to electronic measuring or pumping and it's hard to imagine a row of gravity pumps along side an RFID card reader, not to mention that an RFID reader won't pretend to be interested in one's problems.
It was once inconceivable that we'd have to fill our own cars with petrol, but we got used to it surprisingly quickly, perhaps we'll get used to the lack of bar staff with equal celerity. ®
Sponsored: Ransomware has gone nuclear