From Dust
Playing God
What makes you tick..
This minimalist approach is matched by minimalist controls, with only the picking up of material, the selection of miracles, camera movement and commanding of villagers possible. Alas, nowhere is there an option to set waypoints for villagers, as they direct themselves to the next totem. Not an issue at first when progress is all but assured, but much more of a problem once the difficulty inevitably ramps up, causing your villagers to burn to death, fall, drown and so on, like so many suicidal lemmings as they fail to relocate a village (again).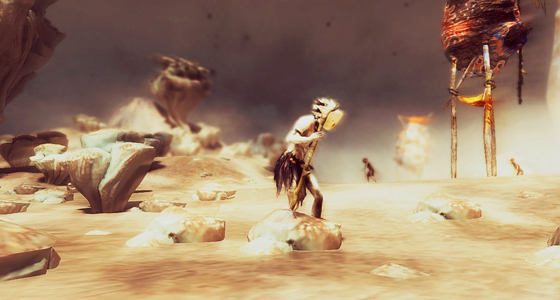 Rock on!
This inefficient pathfinding – when combined with the game's other major fault, its insistence on gradually turning itself into a race against the clock, rather than be content to be a playful sandbox with added goals – proves in many ways the game's partial undoing. It's as if, not happy with creating something beautiful, the development team decided they just had to make it challenging too, mistakenly assuming that a game has to be hard in order to be satisfyingly entertaining (just look at Flower for evidence to the contrary).
Instead, you're soon working against a countdown, at the culmination of which a natural disaster will occur, be that the inundation of a tidal wave or the eruption of a volcano. Then, once said catastrophe has happened, the countdown resets and repeats in an endless cycle – if tsunamis really did occur with this much regularity half the world would be uninhabitable.
Hence, you're tasked with soldiering on, hoping that your tribe will find the quickest route to their next destination before the clock once more hits zero – something which usually sets them running back to their village and so scuppering any progress made.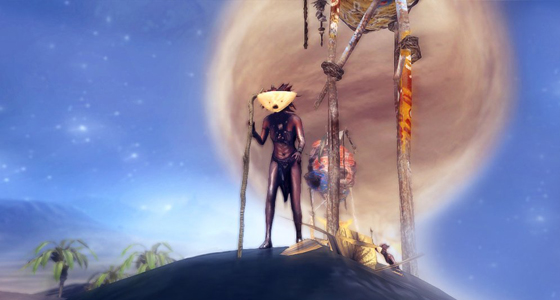 Look out, there's trouble around
Even once they make the journey in time their village's survival isn't always assured as fire, lava or water threatens to constantly level the settlement. Yes, you have the power to divert those hazards, with miracle or foresight, but with the land in such constant flux there's a constant element of frustration. It strikes me that From Dust is far from its strongest when the player is frantically grabbing sand, lava or water from opposite sides of the map in time to divert impending destruction – a simple matter of the controller's shortcomings in comparison to the PC's mouse.
I've got this far without mentioning the side objectives, the collecting of hidden artefacts and the reforestation of the barren landscapes. Perhaps a hint of what might have been a more complex game that never materialised, at least this time around, sees 'Memory of the Tribe' fragments unlocked as life is restored to the barren lands.
Then there's the challenge mode, an entertaining departure which presents further scenarios, unlocked as you progress through the campaign, which act more like logic-based puzzles than traditional god sim.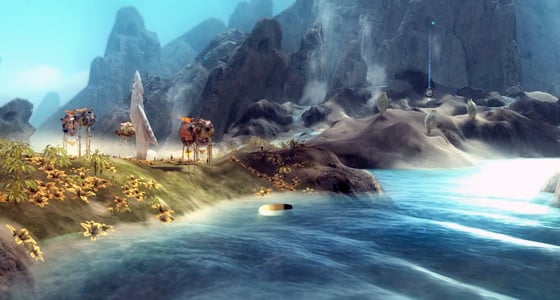 Sitting on the rock of the bay
Verdict
Without doubt From Dust is a game with massive potential and a great many positives, but not without its self-induced limitations. If presented as a true sandbox, in which the player largely played on a whim, I'd be raving about it. Instead, because of a series of enforced deadlines which add challenge yet disconcerting constraint, I'm left with some misgivings. That said, at just over £10, there's really no reason not to take a punt on a game which at least tries something a little different on a console. ®
More Games Reviews

Transformers:
Dark of the Moon
Shadows of
the Damned
FEAR 3
Dungeon
Siege 3
Child of Eden
Sponsored: Detecting cyber attacks as a small to medium business

From Dust
And lo, on the eighth day, God returned to throw sand, water and lava about a bit… Available on Xbox Live (tested), PS3 and PC (coming soon).