EMC boss Tucci in lucky escape from poverty
$1m here, $1m there, soon you're talking real money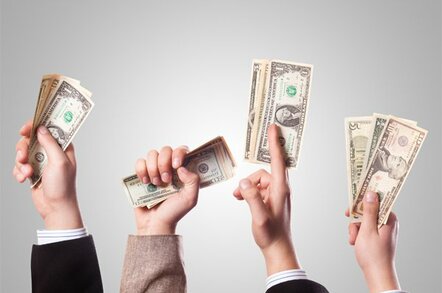 EMC boss Joe Tucci has managed to escape poverty by the skin of 8.2 million teeth; he has just cashed in his stock options for a cool $8.2m.
The Boston Business Journal notes that Tucci exercised stock option rights and bought 575,000 EMC shares for $12.85 to $13.18 and then, what a wheeze, sold them at once for $27.46 each, enabling him to buy the week's shopping, fuel his car, clean his suits, and pay for whatever else you need when you are a multi-millionaire.
Comment
It's always a mystery to me why the people who toil in the trenches don't get such gold-plated incentives while the people with the million dollar salaries get stock options to make them even richer. Wouldn't the benefit of incentivising 30,000 trench-working people strongly outweigh the benefit of incentivising 10 or 20 execs excessively?
Well, as the apologists for such emolument schemes might say, the drones in trenches wouldn't have jobs at all unless Joe did his great job, they'e relatively well-paid anyway, and Joe T deserves his reward because he's making EMC stockholders richer. The company has indeed just reported a knock-out quarter and full year.
Joe T still holds 1.8 million EMC shares, so he would be making himself richer even without the stock options. ®