Intel gives former CFO Bryant the chair
Well, the vice chair, for starters
Chip giant Intel has named Andy Bryant – its former CFO and current executive vice president in charge of its technology, manufacturing, and services operation – as vice chairman, and tapped him to become chairman of the board next May.
Bryant came to Intel in 1981 after stints at Ford Motor Company and Chrysler – and I know what you're thinking. One, why are they putting a bean counter in charge of Intel? And two, how did a car freak make it in Silicon Valley all these years?
Quite well, as it turns out. And by working his way up through the ranks from the accounting side of the chip operation.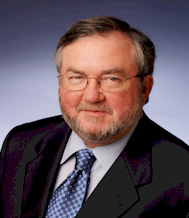 Future Intel chairman Andy Bryant
The convivial Bryant started out as a controller in Intel's Commercial Memory Systems business three decades ago, before Intel decided to get out of the memory business – and probably saved its own sweet corporate life.
A few years later, he was moved over to be controller in Intel's fledgling Systems Group, and by 1987, he was name director of finance for the company. In 1994, Bryant was made chief financial officer for all of Intel, a post he held for 13 years. In October 2007, apparently growing tired of counting beans, Bryant was given the job of chief administrative officer, and two years ago that role was expanded, giving him control over Intel's chip process and manufacturing operations, its own IT systems, as well as human resources and finance.
Which begs the question: what are all the other Intel executive VPs and senior VPs doing all day?
With Bryant's ascension to the Intel board as vice chairman today, the board now has 11 members. But next May, when current chairman Jane Shaw retires, Bryant will assume the chair (probably while it's still warm) and the board will drop back to 10.
Intel's president and CEO, Paul Otellini, is currently 60 and is expected to retire at 65, as is the tradition among Intel CEOs. Bryant is already too old to be in the running for those jobs, based on that tradition, but will have a big hand in picking Otellini's successor. ®