Win a week-long test drive of the 2011 Ford Focus
Your chance to drive the car that's packed with tech
Competition Reg Hardware and Ford have teamed up to bring three lucky readers the chance to take part in a week-long test drive of the 2011 Ford Focus.
The new Ford Focus is the technology-packed family car we judged to be "possibly the most complete C-Class hatchback on the market, and certainly the most hi-tech" in our review.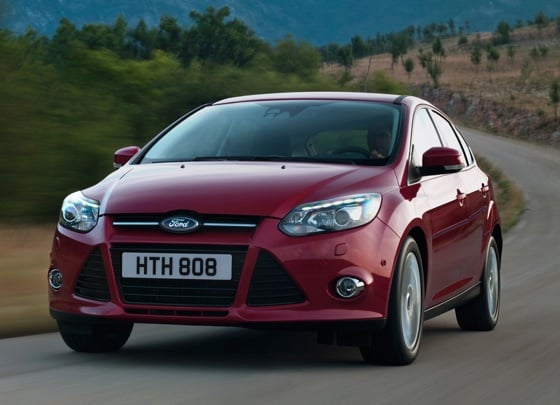 The Ford Focus puts more technology into the driver's hands than ever before. Active Park Assist can get the Ford Focus into a gap only 20 per cent longer than the car itself.
On the road, the Ford Focus will ensure you stay in lane, track traffic signs for you, even brake for you to prevent low-speed impacts.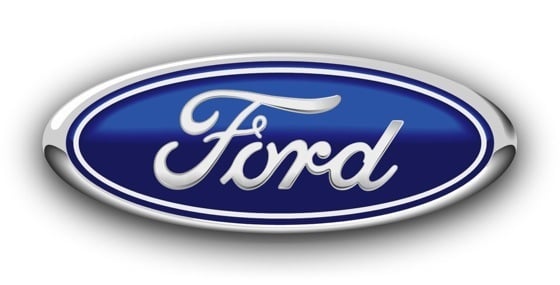 Check out Reg Hardware's review for all the details.
In fact, with its 360° sensor array, the new Ford Focus probably has a clearer understanding about what's going on around it at any given moment than many drivers have. It's like having an intelligent co-pilot on board.
But don't take our word for it - why not try all these features out for yourself? Correctly answer the questions below, and you could win a week's test drive - and become a Reg Hardware journalist, telling us and your fellow readers how much you enjoyed using the Ford Focus.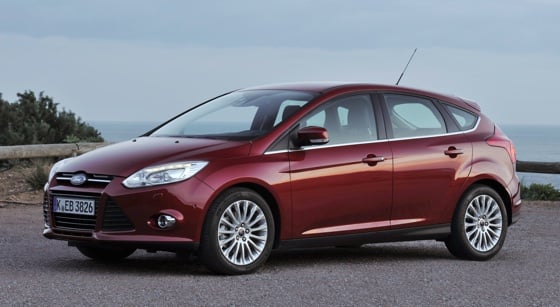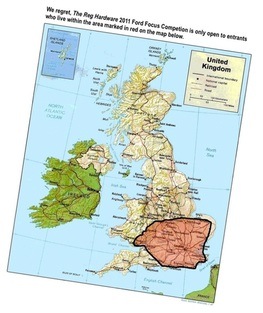 Click image for a larger map
To enter, you must be over the age of 22, hold of a full and clean UK driving licence - we'll need copies before you can start your test drive - and fill out the following form in full. Sorry, but you also need to live in the South East of England - click here for a map to see if your home is in the entry zone.
Should you win, we'll help you make a video review of your time with the car, and you'll get to write up your experience and see it published in Reg Hardware.
The closing date for entries is Midnight, 14 August 2011.
Terms and Conditions
The Reg Hardware Ford Focus 2011 Test Drive Competition is open to all readers of Reg Hardware resident in the UK aged 22 or over and in posession of a full UK driving licence without endorsements.
No purchase is necessary to enter the Competition. Test vehicles will only be delivered to domestic addresses within the South East of England. Click here for a map of the delivery zone. Entrants who do not reside within this area may be disqualified.
The vehicle will be provided with comprehensive insurance in the driver's name only. The winner must produce his or her original driving licence in order to participate in the trial. The loan will be subject to Ford standard loan car terms and conditions. The vehicle must not be taken outside of the UK or be driven more than 1500 miles during the week loan.
Winning entrants must make themselves available to record a video review of the test vehicle, conducted by a third-party. Winners also agree to be interviewed by Reg Hardware for the purposes of producing a written accont of their experience with the test vehicle.
The Competition is not open to employees of Ford UK, WPP Ltd., Situation Publishing Ltd, their families, or agents. Only one entry is permitted per household. Multiple entries will be disqualified. If a winner is unable to take advantage of the test drive within a reasonable time, or cannot satisfy the terms and conditions of the competition and of the loan, the offer of a test drive may be withdrawn. No alternative prizes will be offered in any circumstances.
Each entrant must supply a valid email address to which a confirmation email will be sent should the entrant's name be drawn. The winner will be the first name drawn from entrants who have correctly answered the questions posed. Winners will be notified by email within 28 days of the closing date, and must respond within one week. Winners who do not respond within this time may be disqualified and another winner drawn in their place. The Editor's decision is final, and no correspondence will be entered into.
This competition has now closed
Closing date: Midnight, 14 August 2011.
By entering the competition you agree to have your supplied personal details passed to the sponsor so that they can contact you with further information about their company, products and services.
Ford Motor Company Limited will use any information collected about you to inform you about new products and services and to improve how we serve you. Your data will be treated in accordance with UK legal provisions. Your information will only be disclosed to Ford Motor Company Limited, its affiliated or associated companies, agencies, dealers or companies providing services for your benefit. From time to time it may become necessary to transfer your information outside the EEA. In these circumstances we will take every step to ensure your privacy is respected. If you wish to view, update, or rectify the data you have voluntarily given to us please contact: Ford Motor Company Limited, PO Box 2439, Glasgow, G40 3WX.