Speaking Clock to celebrate diamond anniversary on Sunday
At the thaird strairke, I will be - beep, beep, beeeep - 75 yairs earld
At the third stroke - or this Sunday, to be precise - Britain's famous Speaking Clock will be 75 years old.
The Speaking Clock was one of the first pre-recorded information services available to UK telephones. Designed and constructed at the Post Office Engineering Research Station in North London, the machine was made from a collection of motors, glass discs, photocells and valves that filled an entire room. Announcements were automatically co-ordinated on the hour with GMT signals.
The clock was first introduced to the UK on 24 July 1936 in the London area. After six years, it went national.
Those who needed to know the time would dial the first three letters of the word. Back then, letters were printed on telephone dials to aid automatic calls. This led to the service being called 'TIM'.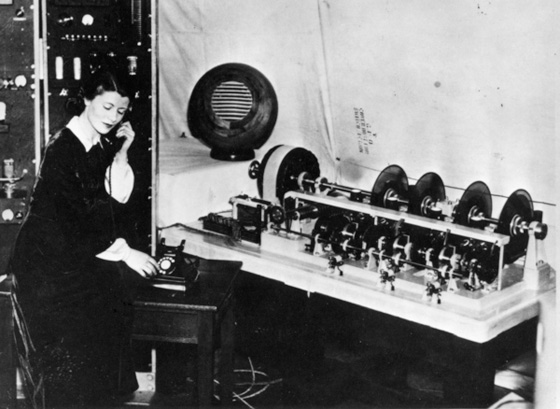 Jane Cain with the first Speaking Clock machine
Source: BT Heritage and Archives
Only four voices have ever held long-running slots on the line. The first was occupied by Jane Cain, who won the position through a Post Office 'Golden Voice' competition. Cain's tones were used for 27 years until she was replaced in 1963 by Pat Simmons, along with more modern recording tech that used a magnetic drum.
Simmons won her spot through a similar competition and had her voice used for 22 years, until 1985. According to the curator of the museum of the British Horological Institute, where that particular machine is now stored, the electric motor broke down on the same day Simmons died. Spooky.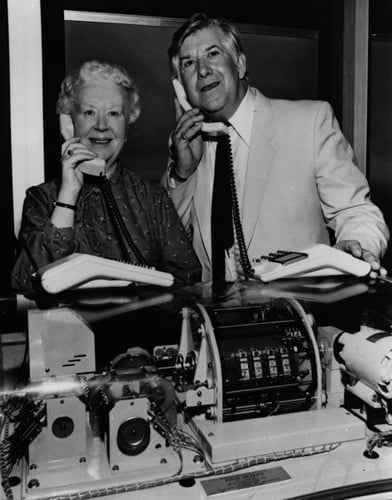 Pat Simmons and Brian Cobby
Source: BT Heritage and Archives
In 1985, with the machinery behind the clock once again up for replacement, BT launched another search for a vocal successor. Actor Brian Cobby was eventually chosen to take the reigns, becoming the speaking clock's first male voice.
The machinery went digital, using a built-in crystal oscillator and microprocessor logic control. This system has been used ever since and is said to have assured accuracy of up to to a five thousandth of a second.
Soon after Cobby started reading the time, BT struck a deal with watch-maker Accurist in a sponsorship agreement that lasted until 2008. O2 has held the sponsorship since.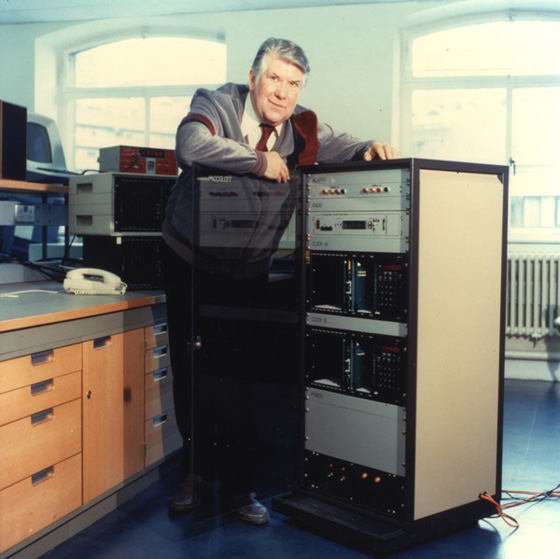 Brian Cobby with the digital system
Source: BT Heritage and Archives
When the clock reached its 70th anniversary in 2006, yet another competition was launched to find a fourth voice. One Sara Mendes da Costa, a telemarketer and voice-over artist, was announced as the winner and has been the timekeeper ever since.
Despite a surge in mobile phones and computer use, all of which make it easy to check time, the BT Speaking Clock still receives roughly 30 million calls a year. That's quite a lot of profit when you consider it costs 30p plus a 12.5p connection fee each time you call. Pffft, and all for something that can usually be answered by asking a passer-by, "Excuse me mate, have you got the time, please?"
Still, the Speaking Clock is a rich symbol of our past and should be preserved accordingly. Even Big Ben uses it to keep its own timekeeping in check. Now that really says something. ®
Sound clips above come from telephonesuk.co.uk, a site all about the history of telephones.