HP board gives Leo $10bn more funny money
Financial engineering 101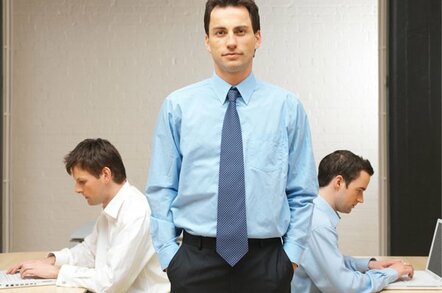 The board of directors at IT giant Hewlett-Packard think that HP's stock is undervalued and that the company needs to bolster the earnings per share that the company will report in future quarters. Thus the board has given CEO Leo Apotheker an additional $10bn in funny money to send in truckloads encrypted packets down to Wall Street to buy back HP shares.
In a regulatory filing with the Securities and Exchange Commission yesterday, the company said the share repurchases were also designed to counteract the dilution caused by shares issued under employee stock plans as well as a desire to "repurchase shares opportunistically". Or as rival IBM has done for almost two decades and will continue to do for the next two until the cash runs out, financially engineer its quarters to make them more predictable and to make Wall Street happy.
Last August, after former HP CEO Mark Hurd was fired and HP had turned in a pretty good third quarter for fiscal 2010, the company announced a $10bn share repurchase authorization to mop up shares on the cheap and to calm Wall Street a bit. Former SAP CEP Leo Apotheker was tapped to be HP's replacement for Hurd.
Up through the end of April, which was the end of HP's second fiscal quarter, Apotheker and his team had blown through $4.1bn of that original $10bn. HP will finish up its third quarter at the end of this month and probably chew through a few billion more to help Wall Street's palpitations. Wall Street is jumpy about Apotheker missing his numbers in the first two quarters he was at the helm, as well as the company's rejiggering of its divisions, and the firing of a bunch of key executives throughout May and June. In an internal memo in May, ahead of the restructuring, Apotheker warned HPers that Q3 and Q4 were going to be tight. After the restructuring, which was announced in June, HP is still looking for someone to run its Enterprise Services behemoth after bumping Ann Livermore up to the boardroom.
As El Reg goes to press on Friday morning New York time, HP shares are up 2 per cent to just under $37 a pop, well off the nearly $49 level seen in mid-February and lower than where they crashed in the wake of Hurd being fired following a sexual harassment and accounting scandal last summer. Thus far, Wall Street seems unimpressed by what Apotheker has done with HP.
In addition to announcing the share buyback dough yesterday, HP also declared that it would pay a dividend of 12 cents per share for the fourth quarter. HP has 2.1 billion shares outstanding, so that works out to around $252m, payable October 5. ®