World o' Flash: El Reg roundup report
A-aah! Saviour of the universe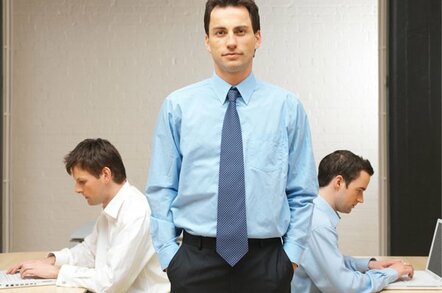 Analysis There is a flash furore going on, with flash announcements coming in at a furious rate, both product announcements and flash foundry expansion. Here's a round-up of what's going on.
First, Toshiba and SanDisk have opened a new flash foundry – Fab 5 – at Toshiba's Yokkaichi facility in Japan's Mie Prefecture. The fab has been funded by a joint venture in which Toshiba has a 50.1 per cent interest and SanDisk holds 49.9 per cent. It started mass production of 24nm process technology wafers this month and the first products should be coming out next month. The plan is to transition to 19nm process technology and increase the number of dies cut from a wafer.
According to Samsung, it is going to open its Line 16 flash fab in Hwaseong, South Korea, in September. The plant's output of 12-inch wafers could hit 200,000 per month.
Other things being equal, more flash output should help bring prices down.
OCZ product
OCZ has announced the RevoDrive 3 and RevoDrive 3 X2. The "3" is a 240 or 480GB product with 2-bit multi-level cell (MLC) flash and a PCIe gen 2 x4 interface. It is rated up to 200,000 random read IOPS, fresh-out-of-the box so to speak, 130,000 random write ones and does sequential reads at 1GB/sec and sequential writes not much slower at 925MB/sec.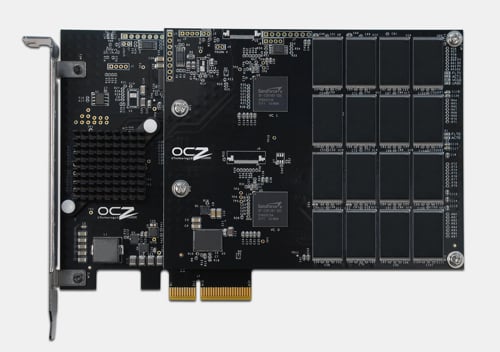 OCZ RevoDrive 3 X2 showing SandForce controllers
It's a workstation or NAS server SSD priced around $3 to $5/GB, with TRIM, SCSI unmap and SMART support. OCZ says it lacks the full power fail protection and redundancy features of its Z-Drive R4 product.
The "3 X2" adds a third capacity level of 960GB, using the same 2-bit MLC NAND. OCZ says it is rated at up to 230,000 IOPS, and its sequential reading and writing are also faster than the RevoDrive 3 at 1.5GB/sec and 1.25GB/sec respectively. Both products are available now.
Nimble Storage
Nimble Storage, which makes a combined flash and hard disk drive array to store both active data and backup data, has received a fourth round of funding and launched a new entry-level CS210 product.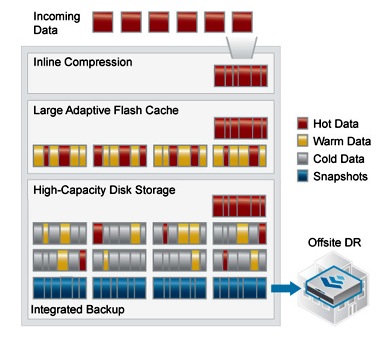 Nimble's CASL architecture schematic
The new funding amounts to $25m and has come in about six months after the third round of $16m. Total funding is now $58m. VCs are almost throwing money at the company, hoping it will expand quickly and then give them a huge payback. This is probably partly caused by the huge success of the Fusion-io IPO.
The CS210, with 8TB of usable capacity, slots in under the existing CS220 and CS240 products. It is certified with VMware Site Recovery Manager, and Nimble says customers can use its kit to converge primary and backup data storage and get disaster recovery (DR) at a fraction of the cost of other sets of products offering the same capabilities.
Nimble has more than 100 customers and most of them have bought two products to get the DR capability. The company says it provides near-instantaneous backup as active data is backed up from flash. According to Nimble: "The CS210 eliminates backup windows by enabling instant backups on the same array used for primary storage. Backups take seconds and do not impact application or storage performance."
Sanrad
Israel-based Sanrad has produced a flash-based cache – the V-Switch XL – which sits in the network between a SAN and accessing servers, and accelerates SAN storage I/O by caching hot data in its flash. The company says using flash in this way avoids the limitations of sever-based flash, such as the instability to vMotion apps from server to server because the cache data is not moved.
It also avoids the limitations of putting SSDs in SAN arrays. Sanrad claims it also avoids having the array controller become a possible bottleneck because it suffers resource contention from the SSDs and the disk drives.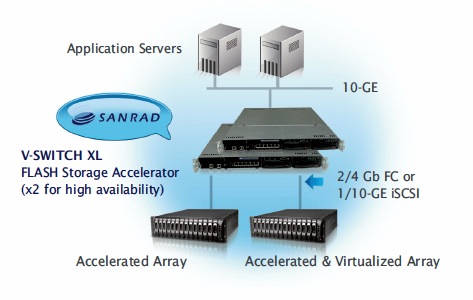 Network schematic of V-Switch XL use
The V-Switch XL can act as a storage virtualiser if users want this, like the V-Switch, as well as operating as a SAN acceleration device. Server apps should see a 2x to 10x acceleration compared to non-flash cached access.
The software in the switch is designed to cache appropriate data for specific apps such as SQL Server and Exchange, and is policy-driven, while also learning an app's data access patterns and so, hopefully, caching the app's data more effectively. Sanrad says this software also extends the flash's lifespan, without going into any details.
The V-Switch XL connects to servers via 10GbitE and to backend storage arrays via 1 or 10GBitE and 2 or 4 or 8Gbit/s Fibre Channel. There can be up to 10TB of flash, built from five front-loading PCIe flash modes which hold 512GB, 1TB, 1.5TH or 2TB of flash apiece.
Two V-Switch XLs can be clustered in an active-active configuration for high-availability.
No information yet on price or availability.
Seagate, HS and Violin
Elsewhere, Seagate has started shipping its Pulsar SSD and Huawei Symantec has announced its all-flash Dorado S2100 array.
No doubt there'll be more announcements in the next few weeks.
As a taster, Violin Memory has recruited HP's EMEA storage VP, Garry Veale, to run and expand its European operation. It has also appointed a software CTO, Jonathan Goldick, complementing the existing overall CTO Jon Bennett, who founded Violin.
Clearly, software will be an important aspect of Violin's products.
Flash is where some of the hottest storage product action is taking place and there is no indication of any let-up in the rate of flash product announcements. Bring it on. ®
Sponsored: Your Guide to Becoming Truly Data-Driven with Unrivalled Data Analytics Performance