The greatest tech show on Earth
We attend Campus Party Valencia
I was invited to the Campus Party in Spain last week. After being told it's the biggest tech show on the planet, I could hardly turn the offer down. And, following some manic days at the show, I have to agree: there's nothing quite like it.
Held each year in the beautiful city of Valencia, Campus Party is described as the world's largest tech event for creativity, entertainment and digital culture. Since 1997, it has brought together Spain's geek community from overclocker enthusiasts and hackers, to robotic engineers and video gamers. There were 6500 of them this year.
You name it, some übernerd was there flaunting it.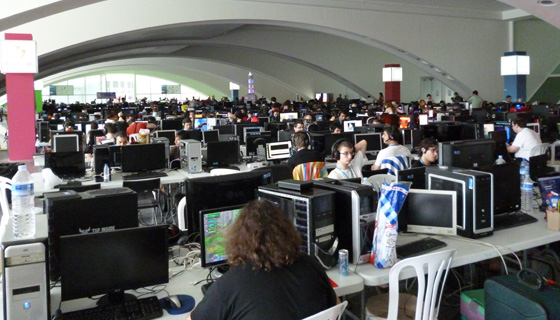 The first room to grab my attention was the computer modding section, where hundreds of enthusiasts gather Lan party-style, each with their own extensive PC tweaks and custom designs. Here, the modders stay up all night and sleep through the day, playing games, networking, sharing ideas and doing what geeks do best: secretly finding ways to watch mature content, ahem.

Image credit: Isa Andreu
With a room this big I didn't know where to start, there was so much to see. I bumped into Sergiokillo, a games enthusiast and console collector from Zonajuganes.com who has been coming to Campus Party for the last five years. Instead of throwing away his old computer parts, Sergiokillo turned them into this custom-made arcade machine, running hundreds of classics from Bubble Bobble to Super Mario Bros.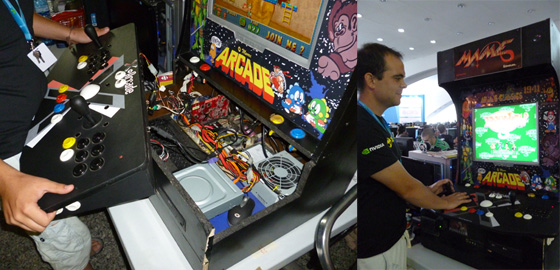 The machine is basically a Windows PC running an emulator, but with a functional coin slot and such a meticulous design, it was impressive nevertheless.
With hundreds of custom jobs crammed into one room, there was, of course, much more to see than just a homemade arcade machine. A stones throw away was this beaut from four-man team ClanPLP.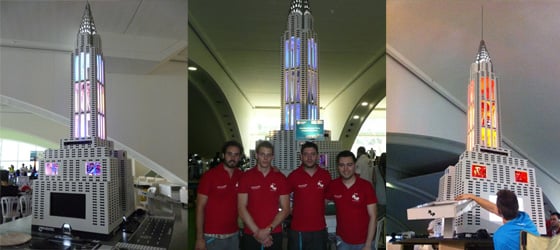 The building, modelled on the Chrysler in New York City, took four and a half months of intense work, carpentry and mechanical engineering to complete. It features a computer on each of the four sides, plus one built into the top of the tower and with full lighting controls and a compressed-air hydraulics system to raise and lower the tower, the Chrysler was by far one of the more impressive design mods in the room. So much so in fact, the team were awarded a first place prize for their effort.
ClanPLP have been coming to Campus Party for six years now, annually trying to top previous efforts. They've been doing a pretty good job of it and have managed to find sponsorship from Microsoft, as well as numerous other outlets. How they'll beat this model next year though, I'll never know.
Sponsored: Practical tips for Office 365 tenant-to-tenant migration