ARM to wrestle quarter of laptop market from Intel
Windows 8 to lead smartbook revival
Give it four years and ARM-based processors will be found in almost a quarter of all notebooks sold.
So predicts market watcher iHS iSuppli, which also reckons 7.6m ARM-based laptops will ship next year - three per cent of total number of notebooks shipped.
That itself is a staggering statistic since there are none shipping now unless you count old Toshiba AC100 smartbooks being flogged off on eBay.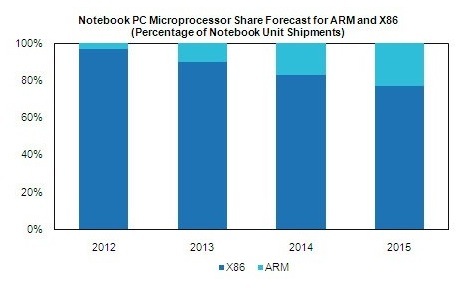 Source: iHS iSuppli
Come 2015, and ARM-based notebook shipments will have reached 74m units, iSuppli believes - 22.9 per cent of the laptop market.
Only one half of the Wintel monopoly is being broken, though. While ARM chips will eat into the market share of x86 chip maker Intel, it's Microsoft's Windows 8 that will drive the adoption of ARM by laptop makers, iSuppli said.
ARM will grab the most share in the low-cost laptop business where price is a more important purchase consideration than performance. So while Intel will lose market share by units, the cut into its share by revenue will be much smaller.
And that assumes Intel's continuing efforts to drive down the power consumption of its processors doesn't allow it to deliver chips that provide better performance at a comparable price and power draw as ARM offerings.
Apple, for one, has been claimed to be trying out ARM CPUs in its slimline MacBook Air, a product that emphasises mobility over performance. So ARM may not be only the value option. ®
Sponsored: Detecting cyber attacks as a small to medium business