Educating Verity the OU way
'The skin of my C++ custard remained unruffled'
Battling the inner student
As one reads an OU text, one is supposed to make one's own notes. This is a very effective way to comprehend and absorb information.

But I just can't do it. I am haunted by an inner student with a siren voice, who:
Is ok with education in theory, but
forbids starting homework until the last possible moment, and
absolutely will not countenance the making of notes from printed text. "What's the point of that? You know you will never read them back, even in revision. I mean, it's not like the textbook is going to go away, is it?" she says.

I suspect I am not the only one thus afflicted by this daemon of laziness. But there are ways around.

EMPIRICAL HEURISTIC OBSERVATION

Write quizzes not notes.
Super Memo is an excellent memorising program that allows you to test yourself daily, playing back questions at special intervals calculated to allow the maximum amount of information be absorbed for the minimum effort. Questions that you flunk come around more often, until they are mastered.
Instead of taking notes, as I read each chapter I condensed it into the form of a quiz using these rules. Then I uploaded the questions to my old Palm Treo smartish phone, ready for use anywhere, anytime.
This technique was acceptable to the inner student, because she has to admit that by creating a quiz that runs on my phone, we were making something new and distinct, and not "wasting time" producing an inferior version of an existing resource. And although she hated the work involved, even she admitted it is worth it to avoid going into the exam underprepared.
ACTIVITY
Read this Wired article about the bloke who invented the SuperMemo algorithm. Decide whether or not you believe it. Me? Of course I believe it. Gullible's Travels, that's me.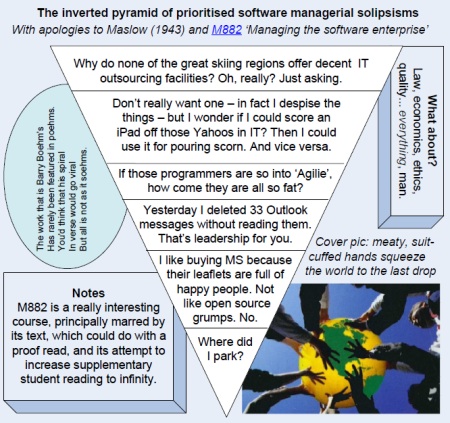 Sponsored: Beyond the Data Frontier