Blighty's rocketeers gather for ballistic love-in
'It's British, naturally string is involved'
Those of you with a penchant for things that go really fast with flames coming out of the back are directed to this weekend's Festival of Rocketry 2011 – Europe's "largest model and amateur rocketry event", which blasts off on Friday at Oxhill in Warwickshire.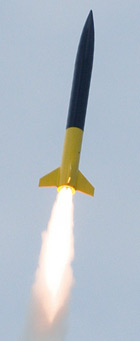 The three-day shindig is organised by the United Kingdom Rocketry Association, with the aim of encouraging "model, high power and amateur rocketry".
The blurb explains: "The event will feature dawn-till-dusk launches of rockets from tiny hand-sized model rockets up to 10ft+ tall high-power rockets reaching speeds faster than the speed of sound and altitudes of over a mile."
Sadly, El Reg's Special Projects Bureau (SPB) can't be there to see the fireworks or chew the fat over our LOHAN ballocket project, but we did chat with John Bonsor, who'll be running Rockets To Go! workshops for beginners.
John, who's involved in the Scottish Aeronautics & Rocketry Association and its forthcoming International Rocket Week, told the SPB the workshop would show newbies "how to assemble cardboard tubes, cardboard, paper, string and paperclips to make a safe and sound model rocket".
We Paper Aircraft released Into Space (PARIS) veterans can certainly relate to the paper element, but string? John explained: "It's part of the British rocket programme, so there has to be string involved in it."
John was keen to point out that, as well as being an "addictive, but in a good way" hobby with plenty of string attached, rocketry has a strong educational element encompassing physics, chemistry, mathematics, and the history of spaceflight.
If you fancy giving it a go, the Rockets To Go! workshops are on Saturday and Sunday at 11am to 2pm, and 3pm to 6pm. The cost is a modest £7 per rocket, with "all materials and model rocket motors supplied". ®