A California woman who may have been a tad unhappy about her impending divorce allegedly drugged her estranged hubby's dinner, tied him to a bed, cut off his todger with a 10-inch kitchen knife, and then disposed of the detached penis in the garbage grinder.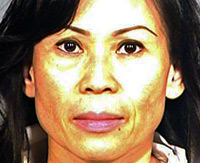 Catherine Kieu Becker, 48, (pictured), apparently called cops to the couple's home in Garden Grove, Orange County, at around 9pm on Monday.
Officers found "a bleeding man tied to a bed", sans pecker – something which he "deserved", according to Becker's spontaneous statement.
Lt Jeff Nightengale of the Garden Grove Police Department said police have "nothing more than the divorce proceeding" as a possible motive for the attack. The 51-year-old husband initiated the unhitching process back in May after 11-and-a-half years of marriage, the LA Times notes.
Nightengale insisted: "We don't have any strong motive leading to this level of violence."
Becker was cuffed on suspicion of "aggravated mayhem, false imprisonment, assault with a deadly weapon, administering a drug with intent to commit a felony, poisoning and spousal abuse", and is being held on $1m bail.
The aggravated mayhem rap – which carries a maximum sentence of life imprisonment – reflects the seriousness of the attack, Nightengale explained. He said: "You're not just depriving a person of a member or portion of their body or disfiguring them.
"You're doing something that's so egregious we're not sure what's going to happen, if they're going to be able to reattach this or repair this person after such a violent attack."
The victim underwent emergency surgery at UC Irvine Medical Center on Tuesday and was reported as being in "good condition". He declined to speak to the press, and dismissed the Orange County Register with a simple: "This is a private matter." ®
Sponsored: Practical tips for Office 365 tenant-to-tenant migration