Apple snuffs iPhone privacy complaint with Korean peanuts
Sueapple.co.kr
Updated Apple has paid a South Korean user one million won to settle a complaint arising from unauthorized iPhone collection of that user's location information.
This is the first time the Cupertino outfit has made such a payout.
Although the amount involved is miniscule – ₩1m converts to just under $950 – what's important is the fact that Apple knuckled under* to a court's May decision to pay the settlement, coupled with the determination of the legal counsel involved to press forward with a class action suit.
And then there's the fact that Apple is currently embroiled in another far more financially significant patent-infringement battle with the South Korean manufacturer Samsung.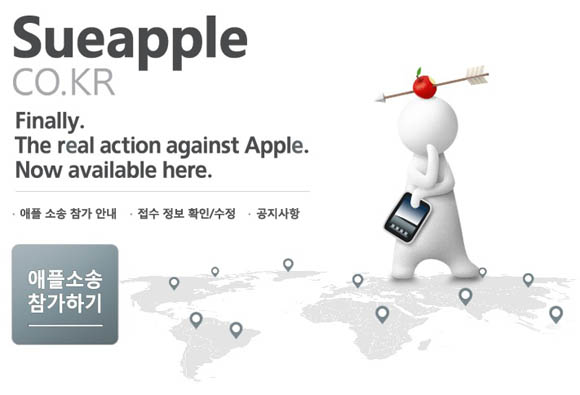 William Tell meets Poppin' Fresh in South Korea
According to a Reuters report, Apple paid the fine last month. That payment, however, didn't stop the law firm representing the wronged user – Kim Hyung-suk, also a lawyer – from launching a website, Sueapple, soliciting other Korean iPhone users to join in a lawsuit over the iPhone data-collection imbroglio, which was ameliorated with what Apple characterized as a "bug fix" in May.
Apple currently faces at least three such cases in the US, and a lawyer representing one of them – Ajjampur et al v. Apple, Inc. – recently wrote to his presiding judge that he was "on notice that another lawyer intends to file additional copycat suits, I believe in state courts, in about thirty states."
It remains to be seen whether any Korean class action lawsuit might result in billions of won – not a mere ₩1m – being extracted from Cupertino. It would also be interesting to see if a public legal tussle might influence the climate surrounding the ongoing wrangling between Apple and Samsung.
The basics of that battle: Apple sued Samsung in April, alleging that the Korean smartphone maker's Galaxy line of Android phone ripped off Apple look-and-feel. Samsung quickly retaliated on more-technical grounds, then petitioned the US International Trade Commission to prevent Apple from importing devices into the US – and Apple quickly followed suit. No pun intended.
In its most-recent earnings statement, Apple noted that it had "experienced particularly strong year-over-year net sales growth" in Korea. If might be worth billions of won in privacy payouts for Apple to burnish its public image in that country as an aid to maintaining that lucrative position. ®
* Update
A Reg reader notes that Apple did not voluntarily pay the court-ordered fee, citing a Korea Times article that says, in part:
Apple Korea did not respond to the ruling. Following the decision, Apple Korea had refused to pay compensation. The court seized 1 million won from Apple Korea's bank account for payment of compensation to the complainant after deducting 2,000 won in remittance fees.
Our thanks to Mr Bean for the clarification.
Sponsored: Minds Mastering Machines - Call for papers now open