Sony launches 3D adverts channel for Bravia tellies
Are 3D TV owners really so desperate for content?
Not to be outdone by Samsung, Sony has rolled out a 3D video-on-demand channel for its Bravia TVs.
Dubbed the "3D Experience", the channel will be pre-installed in 3D-capable Bravias bought from today. If you already own one, there will be a "refresh internet content" update shortly.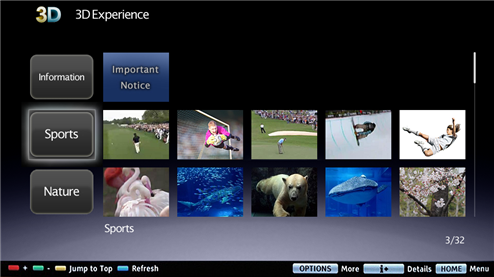 A similar update for Blu-ray players and home theatre kit us coming soon too, Sony said.
The downside is that all the channel is flogging are "promotional video clips", so it will be fine if you need something quick to wow chums who've popped round to gawp at your new 3D TV, but not to sit back and enjoy yourself.
Samsung's 3D VoD service at least holds the promise of 3D films you can stream, albeit at a price.
Sony did promise that Wimbledon 2011 highlights will be added soon, but until then viewers will really only be treated to adverts. ®
Sponsored: How to Process, Wrangle, Analyze and Visualize your Data with Three Complementary Tools