Bischoff's bargain-basement breakout battle at Acer
Fujitsu vet wrestles mighty landslide of cheapo boxes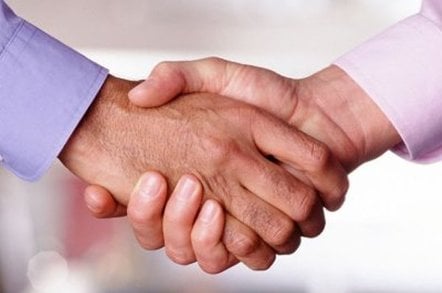 Troubled Taiwanese PC maker Acer has enlisted the services of former HP and Fujitsu Siemens exec Bernd Bischoff to advise on a "ground-up restructure" of its EMEA professional business.
The consultancy role was confirmed to senior staff by president Walter Deppeler as Acer, wrestling with excess kit woes and weakened demand in its consumer market heartland, belatedly bids to boost business with medium-sized enterprises.
One source said Bischoff will offer his services to "help with the corporate business by building the infrastructure to support those accounts. It requires a ground-up restructure".
Past efforts to take on Dell and HP in mid-market enterprise with a European relaunch of Gateway – a consumer brand known for its cow skin motif as well as for pulling out of the region years earlier – had limited success.
This was not as important when Acer was growing retail sales at 30 per cent plus each quarter, becoming one of the largest notebook shippers on the planet.
The problem is that demand for low-cost kit has waned in favour of tablets, channel inventory has swelled and suddenly the stack 'em high, sell 'em cheap model which has served the firm well for years was being questioned.
CEO Gianfranco Lanci resigned in April – the end of an era – following a boardroom bust-up; he did not see eye to eye with Taiwanese execs who wanted to veer the business away from box-shifting.
Dirty linen was then publicly aired, as Acer revealed it was writing down kit to the tune of $150m and firing 300 staff in Europe.
Other senior bods are also departing the firm.
Market data from number-crunchers at IDC reveal that 25 per cent of Acer's 2010 PC shipments across EMEA, some 5 million units, were to small businesses. But research manager Eszter Morvay reckoned breaking into the mid-market is a bigger challenge.
"Clearly quality, reliability and a stable platform are importance factors for enterprise customers but Acer is not known for this, it is known for putting boxes on ships," said Morvay.
A lack of software and services "to build a more complete solution" are also absent from Acer's portfolio, she added.
Big hitters in the channel need to be convinced by Acer's strategy too, "resellers don't make enough money out of PCs to push water up a hill," said Mike Norris, chief exec at Computacenter.
"This is not about Ts&Cs or stock issues, most importantly Acer has no brand recognition with the top 1,000 customers in the UK. It's not negative, just fairly non-existent," Norris told The Reg.
Building a low-cost model to blow rivals out of the water on cost is one thing, but appealing to mid-market and larger firms will require a totally different mentality.
It is questionable if Bischoff – one-time HP veep for EMEA and CEO at Fujitsu Siemens – can shunt Acer onto the right track.
Where is Fujitsu Siemens these days? It exists as Fujitsu but is hardly the business PC powerhouse that Acer would want to mimic. ®
Sponsored: Detecting cyber attacks as a small to medium business