Over 900 police staff caught misusing databases
Cops check squeezes, neighbours, pass info to crims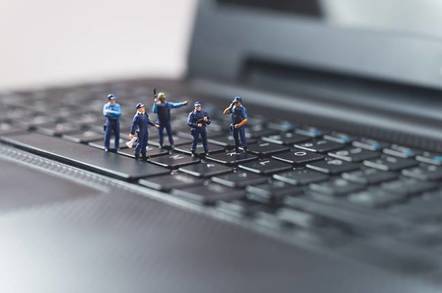 More than 900 police personnel were disciplined for unlawful data protection practices in the past three years, privacy campaigners have said.
Figures released by 36 police forces in England and Wales under freedom of information (FOI) requests by Big Brother Watch (BBW) stated that 904 police officers and civilian employees were disciplined for offences under the Data Protection Act in the three years up to 1 June 2011.
Under the Act organisations that are responsible for holding personal information have a number of legal obligations, including ensuring that the data is processed fairly and is secure from accidental loss, damage or destruction.
The figures also showed that 98 police officers and civilian staff left the force after management discovered their unlawful activity.
One police officer accessed information about their neighbour, while a police sergeant passed information about his ex-wife to his solicitor, the statement said. In Dorset a police officer resigned and was referred to crown prosecutors after disclosing information about the supply of class A drugs to a third party, the statement said.
"Our investigation shows that not only have police employees been found to have run background records checks on friends and possible partners, but some have been convicted for passing sensitive information to criminal gangs and drug dealers," Daniel Hamilton, Director of Big Brother Watch, said in a statement (6-page/240KB PDF) containing the FOI statistics.
"This is at best hugely intrusive and, at worse, downright dangerous," Hamilton said. "Police forces must adopt a zero tolerance approach to this kind of behaviour. Those found guilty of abusing their position should be sacked on the spot," Hamilton said.
Seven police officers from the West Midlands force were criminally prosecuted within the three-year period under violations of the Data Protection Act, the highest number recorded by any of the forces, the BBW statement said.
Kent police force reported that 10 staff had had their employment terminated for data protection law breaches, according to the BBW statistics. Merseyside and West Midlands reported that seven staff left, the BBW said.
Merseyside police reported that 208 staff were legally cautioned for "viewing a computer record relating to a high profile arrest", according to the BBW statement.
A spokeswoman for Merseyside police said that of the 208 Merseyside personnel noted in the report one person had been prosecuted. The majority of the other 207 had received "management advice" on the forces' data protection policies while seven resigned, the spokeswoman said.
Seven forces either did not reply or did not provide information, the BBW said.
In a statement sent to OUT-LAW, a spokesman for the Association of Chief Police Officers (ACPO) said that a high standard of conduct is expected of police staff.
"All officers are subject to the standards of professional behaviour set out in the Police Conduct Regulations," the statement said.
"These regulations are very clear and state that police officers must be honest, act with integrity and do not compromise or abuse their position. Officers hold a position of trust, with privileged access to data and systems, and they have a positive duty to demonstrate that trust to the communities we serve," it said.
"When an officer's conduct, on duty or off duty, falls below the standards, there will be an investigation into what has occurred and if the allegation is proven then appropriate action will be taken," the statement said.
The UK's data protection watchdog, the Information Commissioner's Office said that police personnel have a duty to observe data protection principles.
"Police officers and civilian staff can have access to substantial collections of often highly sensitive personal information," the ICO said. "It is important that they do not abuse this access and only use the information for their policing duties."
"We expect police forces to make substantial proactive efforts to check that any access to their records is for legitimate police purposes and to take action where they discover wrongdoing. Public officials who abuse their positions can face serious consequences including criminal prosecution under the Data Protection Act," the ICO said.

Copyright © 2011, OUT-LAW.com
OUT-LAW.COM is part of international law firm Pinsent Masons.
Sponsored: How to Process, Wrangle, Analyze and Visualize your Data with Three Complementary Tools