Burg 5 watch phone
Tick-tock, ring-ring
Geek Treat of the Week Considering I grew up with Inspector Gadget, Knight Rider and Warren Beatty's portrayal of Dick Tracy, it's unsurprising that I've always craved a watch that doubles up as a phone. A 'photch' perhaps?
Fortunately, my wishes are no longer a pipe-dream, as watchphones have been on the market for years. Chinese manufacturer Burg has produced such watches for a while too, but recently launched a budget model and sent it in for our official vulture verdict.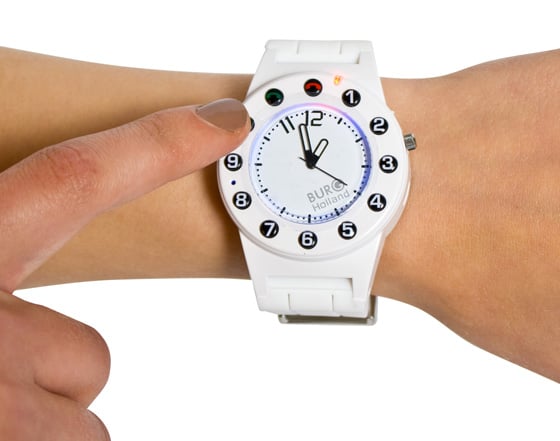 Burg 5: chunky
The Burg 5 initially seems to be nothing more than a cheap watch. It's a big chunk of plastic with a hefty silicone strap and an appetite for wear and tear. Being so bulky it's easy to accidentally catch something and cause damage too, scratching paint off walls in the process. The buttons around the circumference blend into the design as if they're part of the oversized body. It's only when you take a closer look at numbers 11 and 12 - which have been replaced by red and green phone symbols - do you suspect this is more than a basic ticker.
For all its chunkiness and plastic tack, though, there's something very cool about this watch. Dressed casually with a hint of skaterry youthfulness, it can be quite a fashion accessory and I found myself awash with comments from peers about how "sick" my new watch looked. Of course, I corrected them: "This is not a watch…"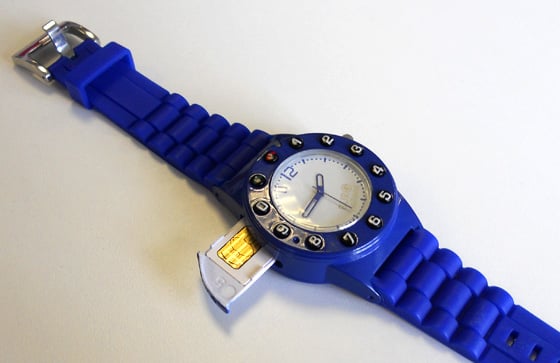 SIMple to use
There's a slot for a SIM card on one side and a Micro-A USB port on the other, used for a headset and charging. When the battery is too drained to make calls, the watch, of course, keeps ticking by means of a second battery, so it doesn't become completely useless. The phone itself lasts for roughly six hours of talk time, clearly making the Burg 5 a poor choice for your main blower, but that isn't the only reason you shouldn't swap your handset for a wrist-set.
For starters, there's no display whatsoever. This means no text messages, no address book and no call options. When a call comes in, the number is read aloud, so although you won't get a name, you can still work out who it is.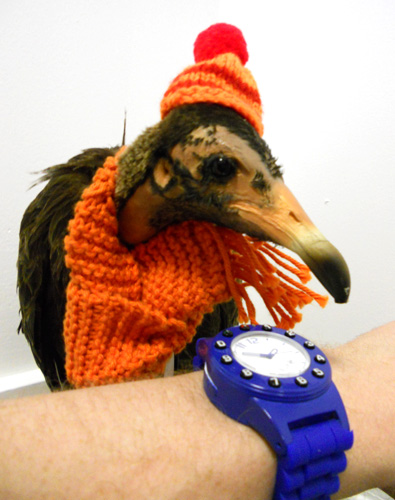 What's the time, Mr. Vulture?
This is impractical for sure, but there was a time when we all relied on physical address books and actually remembered phone numbers, so as I used the Burg 5, I found myself doing the same. This was quite a nostalgic throwback to my youth and probably improved my memory capabilities at the same time. It also has the option to store six speed-dials, so there is a work-around of sorts.
The watch flashes blue when there's a network signal and yellow when there isn't, however I rarely saw the mustard hue and had little trouble with reception. Unfortunately, speaking into the watch itself is a bit awkward and it can be tricky to hear what the caller is saying. For this, Burg encourages you use the supplied hands-free kit, which connects to the USB port. A wired connection is bonkers, though - this photch is screaming for Bluetooth.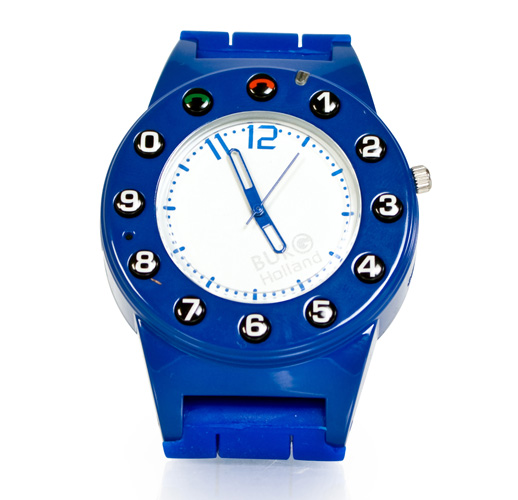 Mr. Bluetastic, telecom plastic
Compatible with all networks except Three, the Burg 5 makes an ideal backup phone for those inevitable moments when your regular handset dies. For this reason alone, I'd consider going out and buying one as it has come to my rescue numerous times over the last week, saving money as well as the sordid experience of entering piss-reeking phoneboxes.
While there are other watchphones which pack many more features, including cameras, touchscreens and address books - the LG-GD910 and the sWaP Rebel, are cases in point - the Burg 5 shouldn't be entirely dismissed as a gimmicky toy. It can be practical too.

Available in an array of colours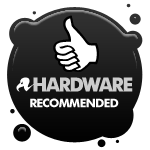 The lack of Bluetooth does hamper the device, but it's still a fun gadget to have - and sure impresses the ladies. Who needs a wingman when you have one of these? If it suits your style and you're in the market for a watch, then it may be worth considering. Or go get a 1980s perm and grab yourself a talking car. The Hoff would be proud. ®
Geek Treat of the Week will be published every Monday. Got one in mind you want us to consider? Let us know
More Gadget Reviews

M-Edge
e-Luminator
Torch
Elgato
Tivizen
H2O
water-powered
radio
Jawbone
Jambox
Sony
Ericsson
LiveView

Burg 5 watch phone
It's a watch. It's a phone. It's chunky but it's cool. Michael Knight eat your heart out.