Dev's iPhone cable melts after iOS 5 upgrade
'I am the Lord of Hellfire, and I bring you...'
An iDevice software developer has claimed his iPhone 4's USB cable "caught fire" after he installed iOS 5 on the device.
Florida-based coder Gus Pinto, whose Twitter profile has his occupation as "pioneering Mac desktop virtualisation", Tweeted today: "My charging cable caught on fire while charging my iPhone 4 running iOS5."
He included a piccy of the outcome: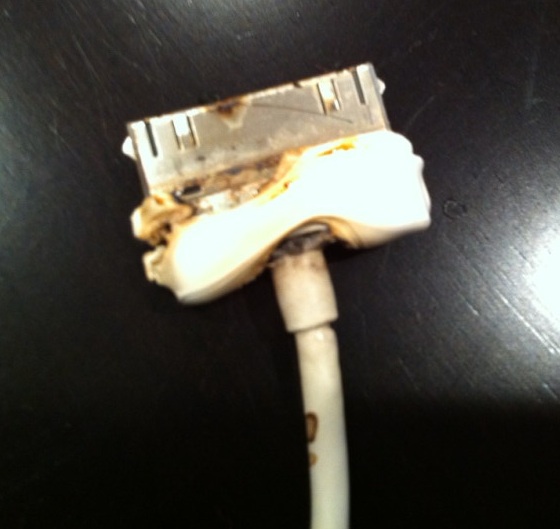 Source: Gus Pinto
Pinto has had iOS 5 on his iPhone for at least nine days, so it's not like the thing suddenly went up in smoke after right after the upgrade.
That said, Pinto himself said "I've been complaining my iPhone has been way too hot since I upgraded to iOS5".
It's something we've noticed too. The longer you need to charge the phone, the hotter it gets, though we've not experienced a meltdown like Pinto did.
It's not a new issue, either. iPhone users have bemoaned high phone temperatures in the past - and have reported singed cables, too.
No wonder Apple is researching alternative methods of charging up the infernal handset's battery... ®
Sponsored: Practical tips for Office 365 tenant-to-tenant migration