Philips 221TE2L 21.5in monitor and Freeview TV combo
Double vision?
Review All modern TVs can function perfectly well as a computer monitor; however the same isn't true the other way round. To make a TV you'll of course need a tuner to pick up the transmitted signal, a decent remote control for all that armchair channel hopping and probably a few extra inputs for your Blu-ray player, games console and the like.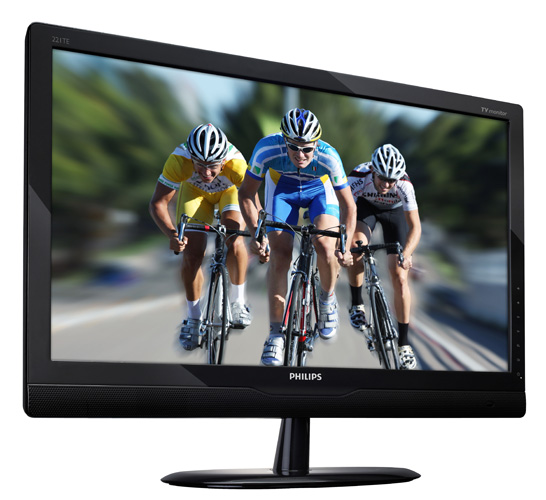 Dual function display: Philips' 221TE2L
Philips has taken all these extras and folded them into a 21.5in display to create the 221TE2L TV monitor. Sit up and work on your PC as normal or sit back with the remote and enjoy digital Freeview TV, the choice is yours.
Thanks to the use of a white LED backlight, it's a slim, lightweight display which also sports a glossy black finish adorned with sexy touch-sensitive controls built into the bezel. With TVs considered part of the furniture, a great deal of effort goes into creating their impressive living-room friendly looks.
The 221TE2L, however, is not one of these televisions. Despite its many design touches, it looks are utterly "monitory". Set it up away from a PC and it looks out of place – you'll be searching for a keyboard and mouse, rather than a remote.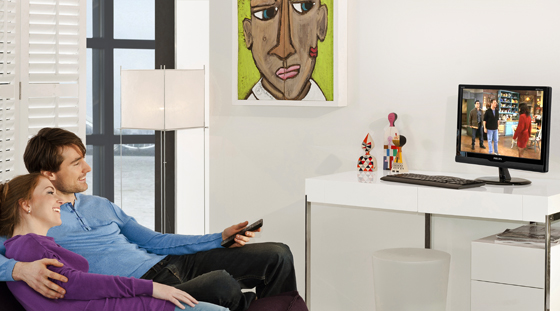 Part of the furniture?
Indeed, this monitor is ideally suited to use in a bedroom or study where this is already a PC installed and where it can function as a second TV without the need for a second space-hogging display. It supports full HD 1080p resolution – not normally required on a TV of this size, but great for PC use, although it does mean on-screen text and icons are rendered pretty small when used at this scale.
Sponsored: Practical tips for Office 365 tenant-to-tenant migration