Ofcom maps state of UK broadband
Where to move for the best speeds - and where to avoid
And the award for the UK's fastest average broadband speed goes to... Edinburgh, named today as the nation's best location for broadband performance by Ofcom.
That said, its average speed as measured by the comms watchdog, 10.1Mb/s, isn't expecially impressive.
Edinburgh is followed by Bristol (9.9Mb/s), Blackpool (9.5Mb/s), Liverpool (9.5Mb/s) and West Dumbartonshire (9.5Mb/s) in Ofcom's top five.
None of the five topped Ofcom's table for percentage of residents experiencing speeds of 2Mb/s or more - or came out tops for the relative availability of "superfast" broadband - defined as speeds in excess of 24Mb/s.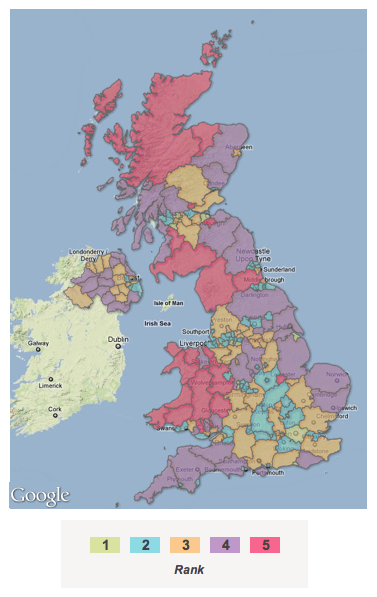 Source: Ofcom
London managed an averge speed of 8.8Mb/s, Glasgow 8.9M/s, as did Birmingham. Greater Manchester achieved 8.2Mb/s, Leeds District 7.9Mb/s.
The worst location: Fermanagh in Northern Ireland, with 4.3Mb/s, barely behind Cookstown (4.4Mb/s), the Scilly Isles (4.5Mb/s), Dungannon (4.7Mb/s) and Pembrokeshire (4.8Mb/s).
Ofcom's measurements follow the order of the Digital Economy Act 2010 that the organisation report on the state of the UK's digital communications infrastructure.
Ofcom tracked the performance of Openreach, the division of BT that sells ADSL connectivity to ISP, and of Virgin Media. Together these two account for the vast majority of UK broadband connections. Ofcom also included Kingston Communications, Wight Cable and South Yorkshire's Digital Region, all of which run their own, albeit small and local broaband infrastructure.
You can check out the full UK broadband data set at Ofcom's website. ®