When Oracle bought Pillar for £zilch
Is Pillar's fate its opportunity?
Worth nothing, now
So that's Axiom, a general purpose SAN and NAS unified array with application-aware quality of service, and there's Pillar, acquired for nothing, not one dollar, not a cent. After 10 years hard and dedicated graft, the net result is apparently worthless. Pillar is loss-making and Larry Ellison has gambled away half a billion dollars on what some have characterised as a vanity storage toy.
That's accounting for you, and the need for Oracle to appear financially whiter than white, and not be seen as Larry's company bailing out Larry in a private venture that has gone sour. There was no other buyer on the scene and this was the best, in fact the only, offer on the table. Larry's toy could have been tossed out of the pram altogether. As it is, it lives on to fight another day.
Pillar, it can be argued, is a work in progress and actually has a lot of potential. If it turns itself around from its current loss-making state and makes enough revenue in three years time to exceed its losses between now and then, its stock-holders will get their share of three times the difference. There's a chance there for serious money.
The only route to it though, is by doing what Oracle wants: building a block storage array that runs Oracle software better than the competition. The Axiom's future is to be the storage layer in an Oracle integrated, block-access stack, with every major part of the stack being supplied by Oracle for Oracle, not for SAP, DB2, SQL Server or any other software application supplier competing with Oracle. It will store other applications' data but be tuned for Oracle software.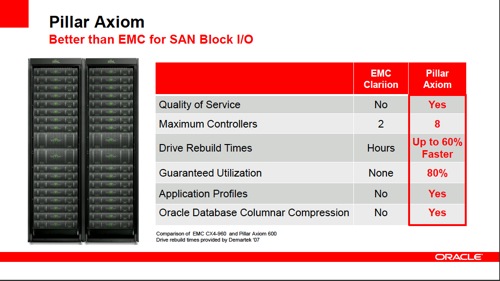 Pillar Axiom vs EMC CLARiiON CX4.
Oracle is positioning Axiom against EMC's CLARiiON and says it's better than the CX4. It is getting columnar compression and will have its application profile capability extended significantly.
Axiom has to become the best SAN storage for Oracle software. That's its management's sole focus from now on. Will its current management be left to get on with the job? Does it want to, after what some could perceive as an insult delivered to them by the ruthless and possibly careless Croesus running Oracle?
Will Mike Workman have to report to Phil Bullinger? There are bound to be efficiency savings as Pillar's back office functions get absorbed into Oracle's, and as other responsibilities inside Pillar are combined with or integrated into the equivalent Oracle ones. This could affect finance, sales, channel sales, marketing and HR. Not insubstantial cost could be saved that way.
Do Mike Workman and his team have the energy and enthusiasm left for another three years hard graft and grind, doing it Oracle's way and not their own, but with the prospect, by November 2014, of actually realising the Silicon Valley dream and making it big time? Can they see themselves pulling this off, vindicating all the work they have done so far, getting their serious walk-away money, ensuring their reputations are flavoured with success and not tainted with failure?
Can they do it? Can Pillar redeem itself? Let's hope so. It would be a sweet, sweet reward, and tomorrow's greenbacks would be compensation for today's brickbats. ®
Sponsored: Detecting cyber attacks as a small to medium business