Lenovo Thinkpad X220T 12.5in tablet PC
A fondleslab too far?
Review A recent business profile of Lenovo in a national newspaper made an interesting assertion. "Anyone you spot on the Tube using a ThinkPad has almost certainly obtained it from their employer," claimed the reporter.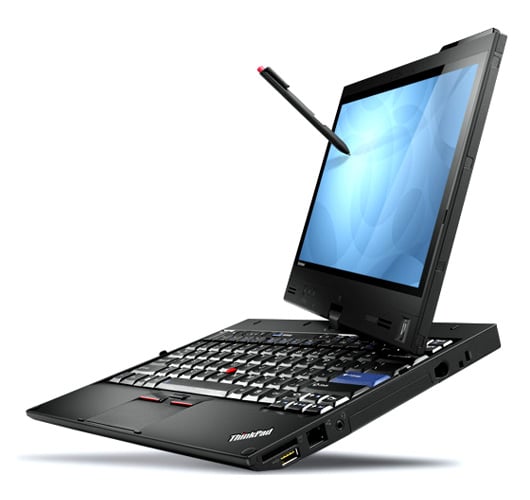 Tablet with a twist: Lenovo's ThinkPad X220T
Well, discerning readers know this isn't true. The build quality, devotion to no-frills heavy lifting, the aftermarket support, and ease of maintenance have long made ThinkPads a favourite. This is a machine for people who know their work, and want to buy the best tool possible to get it done.
The X220 is the most significant overhaul to the premium lightweight X-series in three years; the new model replaces both the X201 and the pricey flagship, the X301. The standard laptop isn't in the channel yet and wasn't available for review, but the Tablet version is here; I'll start by summarising the changes common to both laptop and tablet models.
The single biggest change is a slight increase in width over the X200/X201, to accommodate a 12.5in (diagonal), 1366 x 768 screen. This offers a little more real estate than the 1280 x 800 of the X200s, but at the expense of vital vertical viewing area – a consequence of shifting from 4:3 to 16:9 ratio displays in line with the rest of the market. This isn't a popular move with long-time users – and remember that some 13.3in X300s models offered a 1440 x 900 resolution display option. If you need one, Fujitsu still offers laptops with 4:3 ratio displays.
Lenovo has also brought modern display I/O to the X-series with Displayport. The X301 had a Displayport, but no card slot, while the X200s shunned DVI and HDMI digital video ports. Don't worry, the VGA port is still there. And it's a relief to see the Expresscard 54 slot, an endangered species these days, going strong – giving access to a range of essential upgrades such as fast I/O (Firewire, eSATA), SSD cards and professional audio options.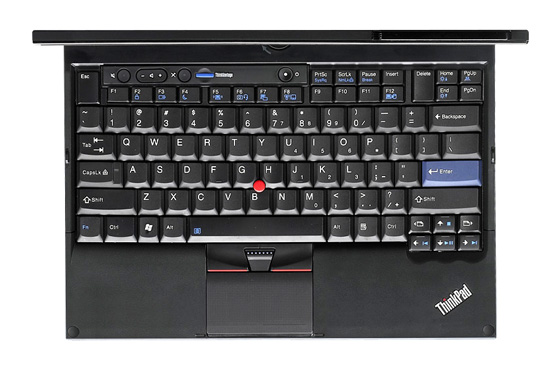 The new widescreen aspect consequently broadens the keyboard real estate
The build quality is as you'd expect, outstanding, with a magnesium alloy chassis, showing no hint of flexing, and the familiar matte finish. The keyboard makes the most of the room in the expanded chassis, and ranks as the best I have used on an X-series, and perhaps any ThinkPad, being firm, light, consistent and perfectly sprung. Finger fatigue is noticeably less after using a well made keyboard. It is a sheer pleasure to use. The extra vertical space has allowed Lenovo to use doublesized Delete and Escape keys.
Sponsored: Detecting cyber attacks as a small to medium business