Lightbox Photos
Snap your status
Android App of the Week Socialising your mobile photography is all the rage these days, a picture presumably being worth at least 140 alphanumeric characters, and this is where Lightbox shines, as a simple way to share your pictures with your social network.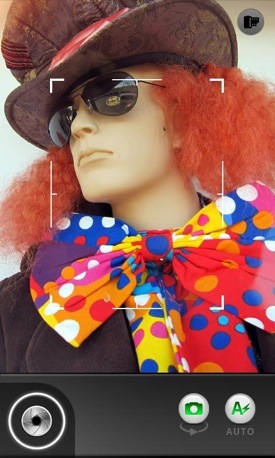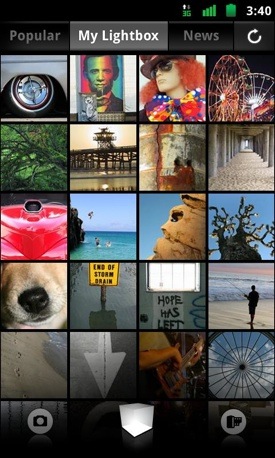 Camera by Lightbox (left) beefs up the Android camera app, while Lightbox Photos (right) handles gallery duties
Install Lightbox and two icons appear on your phone, Camera by Lightbox and Lightbox Photos. The first does the duty of your phone's camera app but with added connectivity options. The second lets you see the images hosted on your free Lightbox account.
The camera app comes with ten filters but it's the Instafix one that's really useful. Tap it and the app rebalances the colour to the great benefit of most casual snaps.
If you want to get more arty there are filers for black & white, sepia and even a fish-eye effect. Pictures can also be tagged with locations from Fouresquare.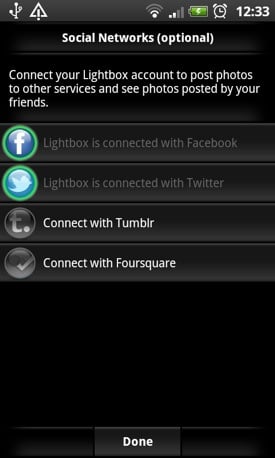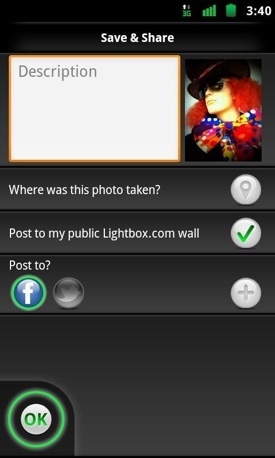 Log into your social networks (left) then tag and upload your snaps (right)
Pictures can be shared directly through your Twitter, Facebook, Foursquare and Tumblr accounts. A simple tap of the relevant icons lets you change which accounts you are posting an image too. Snaps also appear on your Lightbox wall.
Tap a Facebook image and you can like or comment, tap a Twitter pic and you can retweet it, tap a news image and the associated headline appears below. All this can be done off-line too, the app simply syncing itself when you get back on the network.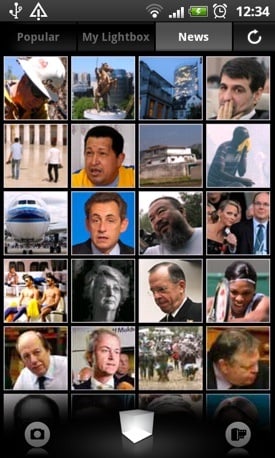 Get snaps from the news
But Lightbox is a two-way street: it also syncs all the pictures posted on your social networks by your friends, followers, flunkies and stalkers.
There's even a pictures-in-the-news feed that pulls images from the likes of the New York Times, Guardian and Boston Globe and a popular images feed from Flickr.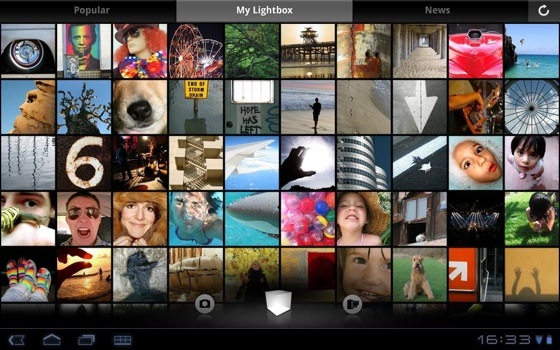 Works well on tablets too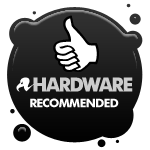 While the UI is sparse and simple, it's also very fast and fluid. Lightbox has also been coded with Honeycomb in mind and works a treat on the latest generation of Android tablets.
Some folk may ask does the world need another photo hosting site but Lightbox deserves it's place in the sun for its simplicity of use and elegance of implementation. ®
Size 3.6MB
App2SD Yes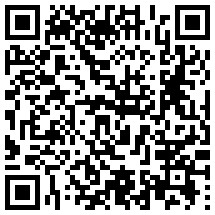 We make our of the best Android smartphone and tablet downloads every Tuesday. It you think there's an app we should be considering, please let us know.
More Android App of the Week Winners

Formula 1
Dolphin
Browser HD
NHS Direct
Folder
Organizer
SendSpace
Sponsored: Detecting cyber attacks as a small to medium business

Lightbox Photos
Social snapping made easy.