Lego Star Wars to be celebrated in TV special
'New and fun direction' for sci-fi series
George Lucas has picked up the building blocks again by readying a Lego Star Wars TV special, to broadcast sometime this autumn.
The news was revealed when Comingsoon snapped a banner promoting the show at the Licensing International Expo 2011.
The television special will apparently be created to compliment the ongoing series The Clone Wars, taking Star Wars in a "new and fun direction." Star Wars and Lego, so very new indeed.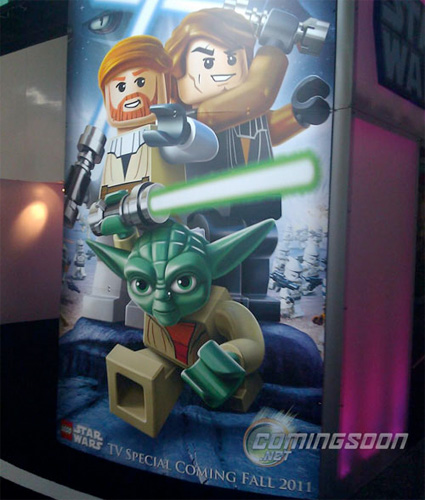 Next year, the original film celebrates its 35th anniversary and by then the world will be even more awash with Star Wars trappings.
Die-hards and willing parents will no doubt line up outside cinemas for the remastered 3D version of The Phantom Menace, while many will stay indoors to watch both trilogies on Blu-ray when they hit shelves this autumn.
By that time, the Tatooine Homestead should have been repaired, sparking an influx of fanboy pilgrimages perhaps.
On the gaming front, there's Kinect Star Wars to look forward to, as well as the anticipated MMORPG The Old Republic. The latter teased us all a few weeks ago with a stunning CG intro video.
On Friday, Sony Online announced the original Star Wars MMO, Star Wars Galaxies is to be killed off permanently this December.
According to an interview with Joystiq's MMO blog Massively, president John Smedley said the LucasArts contract was almost up and with The Old Republic set for imminent release, the company felt "it's the right time for the game to end." ®
Sponsored: Practical tips for Office 365 tenant-to-tenant migration