Wildfire shuts down Los Alamos nuke lab
Wind shifts on supercomputer behemoth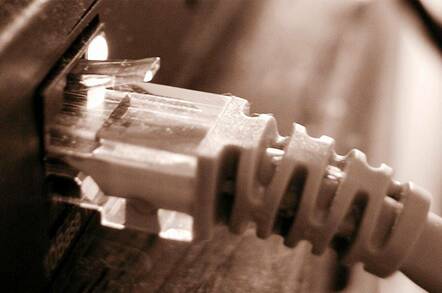 Los Alamos National Laboratory – one of the big nuke labs run by the US Department of Energy and a big supercomputing center – has been shut down by the Las Conchas fire that is burning on the outskirts of Santa Fe, New Mexico.
The lab – which is 35 miles northwest of Santa Fe and which is home to the "Roadrunner" hybrid Opteron-Cell supercomputer, the first machine to break above 1 petaflops performance three years ago – has voluntarily shut down as the Las Conchas fire burns to the southwest of the government compound.
According to a statement put out by the LANL this morning, winds were blowing from the northwest during the night, which kept the fire at bay and off Uncle Sam's nuclear turf. But the winds are expected to shift around the middle of the day, so lab director Charles McMillan took the precaution of shutting down the lab to all non-essential personnel.
LANL employs nearly 12,000 people, including 9,665 who work for national security projects and 1,116 grad students who work for peanuts. The lab has an operating budget of $2bn and occupies 36 square miles and has over 8 million square feet of facilities in over 2,000 different structures.
Being a government facility that spares no expense, LANL has its own observation aircraft, which have been deployed to monitor the Las Conchas fire. The lab cut off natural gas to lab facilities last night as a security precaution, and McMillan wanted to make clear that all "hazardous and radioactive materials" are accounted for and protected, as are key facilities such as LANL' s proton accelerator and supercomputing centers. A meeting scheduled for tonight to talk to the public about the modification for a hazardous waste permit for the transuranic waste facility on the site was canceled.
"It's been a very long night for the fire crews," said McMillan said in a statement. "There has been an outpouring of support from the region, the state, and the federal government and for that we are profoundly grateful."
Sure beats having some nukes catch fire. That's tax money well spent.
The big problem at the moment, since the fire has not yet entered the compound, is smoke.
The Los Conchas fired started on Sunday afternoon and has consumed more than 43,000 acres according to a report in the Los Alamos Monitor. Around 100 homes near the towns of Los Alamos and White Rock have been voluntarily evacuated as of this morning. The National Guard has been called up to help with evacuations. All told, Los Alamos and White Rock have around 18,000 people living in them.
Only three days before the Los Conchas fire started, the New Mexico State Forestry expanded fire restrictions to cover all 33 counties in the state. The restrictions were put in place because portions of the state have not had significant rainfall in months and the risk of wildfire was high – particularly with the July 4th holiday right around the corner. The restrictions including making people smoke indoors or in their cars and the banning of campfires, fireworks, and any open burning. Someone clearly did not get the memo – perhaps even Mother Nature. ®
Sponsored: Webcast: Build the next generation of your business in the public cloud