600 tonne asteroid in low pass above Falkland Islands - TONIGHT
Will be nearer Islanders, Brit garrison than Japan is
An asteroid the size of a bus and massing 600 tonnes is barrelling through space toward planet Earth at terrific speed as this report is written. Astronomers say there is no chance that the object, dubbed 2011 MD, will strike our planet but it will corner sharply through our gravitational field and descend to just 7,600 miles above the surface.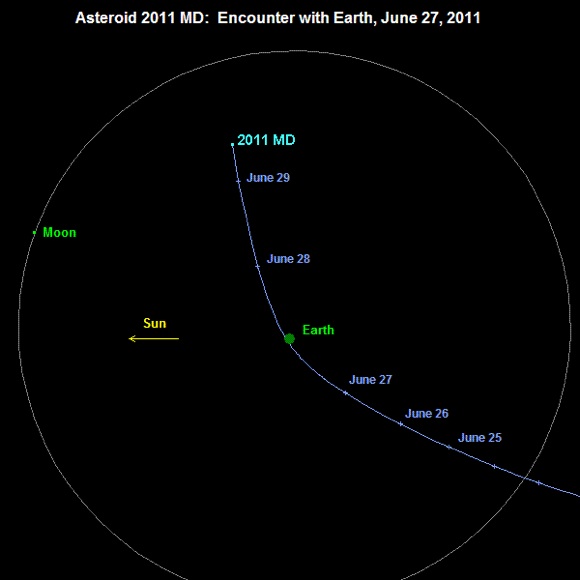 Just a hair the to the north and ... well, basically nothing would happen
Thus, if you were standing beneath 2011 MD's point of closest approach the speeding asteroid would be closer to you than the other side of the planet is: closer than Australia is to someone in London, for instance*.
In fact, as 2011 MD is expected to reach its lowest point this evening above the South Atlantic, only residents of the Falkland Islands and passing mariners will be beneath it (and it will be nearer to them than Japan is, as well as being much nearer than communications and TV satellites in geostationary orbit).
According to NASA the hurtling space boulder is "5-20" metres across and masses something on the order of 630 tonnes. If it were to strike Earth - which it won't - it would release energy equivalent to a measly 10,000 tonnes of TNT exploding. Even this would be entirely within the upper atmosphere: 2011MD isn't big enough to avoid burning up on its way down, there would be no surface impact.
"One would expect an object of this size to come this close to Earth about every 6 years on average," comment the astronomers of NASA's Near Earth Object Program Office. ®
*For our non-British readers, simply substitute the relevant Antipodean region as may apply to you.
Sponsored: Practical tips for Office 365 tenant-to-tenant migration