Xen virt-wizards jump ship from Citrix to start 'Bromium'
Agnostic hypervisors to finally deliver IT security?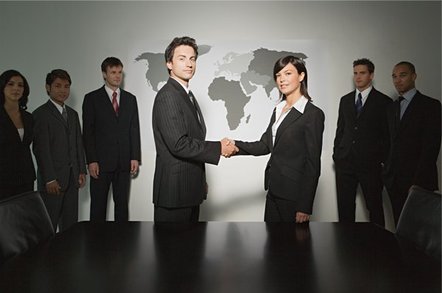 The co-founders of the open source Xen server hypervisor project at Cambridge University who commercialized it as XenSource and sold it for $500m to Citrix Systems in September 2007 have left Citrix to do their fourth startup, called Bromium.
The startup, which is still operating in stealth mode, announced its existence and the securing of $9.2m in Series A funding at the Structure 2011 conference in San Francisco on Wednesday. Andreessen Horowitz, Ignition Partners, and Lightspeed Venture Partners are all kicking in the dough.
Bromium is co-founded by Ian Pratt, who is chairman of the Xen.org hypervisor project and who just left his position as vice president of advanced products in the Virtualization and Management Division at Citrix. Pratt will be senior vice president in charge of products at Bromium, and is deferring to his two other co-founders to run the company and be the chief techie.
Simon Crosby, a colleague from Cambridge who was CTO at XenSource before it was acquired by Citrix and who was CTO of the Data Center and Cloud Division and Citrix, is co-founding Bromium with Pratt. So is Gaurav Banga, who is being tapped as president and CEO at Bromium and who was previously CTO and senior vice president of engineering at computer BIOS maker Phoenix Technologies.
Banga was responsible for the creation of the Unified Extensible Firmware Interface (UEFI) for modern system BIOSes, and also created the HyperSpace baby, "instant-on" Linux environment that Hewlett-Packard acquired from Phoenix in June 2010, and FailSafe, a system for tracking stolen computers that was sold to Absolute Software for $6.9m in April 2010.
Bromium is not revealing exactly what it is up to quite yet, but Pratt gave some hints to The Register, and as you might expect, it involves virtualization on PCs, servers, and other kinds of devices. But the focus for Bromium is not on virtualization – so don't expect an uber-hypervisor that spans all platforms or something like that – but on using virtualization as a means to better secure machines.

"The way that virtualization is being used today is in the management domain," Pratt explains to El Reg. "But it is our belief that you can do a lot more with it, and the big thing we are interested in is security. There are all sorts of malware out there and we are not doing a very good job of protecting against it.
"This is one of those problems I like because this is hard."
With the Bromium tools, which should be ready by the end of the year if all goes according to plan, Pratt says that the idea is to shift away from trusting data files and application files explicitly like antivirus and firewall tools do today for operating systems and virtual machines and to move toward a model where you assign different levels of trust to threads, applications, users, data, and other aspects of the system and then perform a "calculus of trust" as applications are running. This brings context to the security, so you can start thinking about who is doing what with what data to see if it is likely to be harmful or not, for instance. If that sounds a bit vague, Pratt's description was intentionally designed to obfuscate.
Whatever the Bromium software does, Pratt confirmed that a portion of it would run inside the hypervisor that is used to carve up and isolate OS images on PCs, servers, and soon smartphones and tablets; another piece of Bromium would run inside the OSes inside the virtual machines implemented by the hypervisor. The Bromium code is designed to be independent of operation system, hypervisor, and processor architecture, says Pratt, although he concedes that the hypervisors and operating systems that are open source will be the quickest and easiest to snap up the Bromium security.
"We're going to be hypervisor and operating system agnostic," he declares.
The Bromium board of directors includes Peter Levine, venture partner at Andreessen Horowitz, who was previously the CEO at XenSource and an executive vice president at file system maker Veritas before Symantec ate it a few years back.
Frank Artale, managing director at Ignition Ventures, is also on the board, as is George Kurtz, who is CTO at Intel's McAfee security software division. Bromium has hired a bunch of engineers Microsoft, VMware, Oracle, McAfee, and Nvidia and is looking to hire to build out its software development labs in Cupertino, California and Cambridge, England. The company will be headquartered in Cupertino. ®