HP lures SMBs with tweaked servers, switches
Debuts AppSystem analytics appliances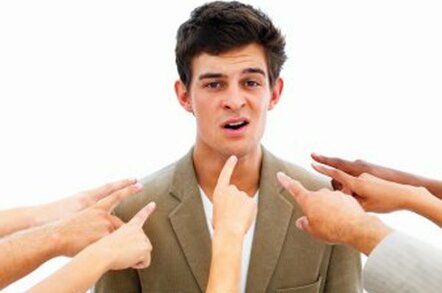 HP has released new – well, "tweaked" might be more accurate – entry-level servers and switches, and rolled out two appliances to run data warehousing and analytics applications.
Although HP likes to boast about its prowess in the largest data centers of the world, it lives and dies on the purchasing whims of small and medium businesses, which spend on the order of $234bn a year on IT hard and soft wares. Thus the importance of Tuesday's announcements to the IT giant's bottom line.
The two new servers include one tower and one rack server. The ProLiant ML110 G7 is a single-socket machine that supports the new quad-core "Sandy Bridge-DT" Xeon E3-1200 processor from Intel, as well as prior dual-core Core i3 and Pentium G processors.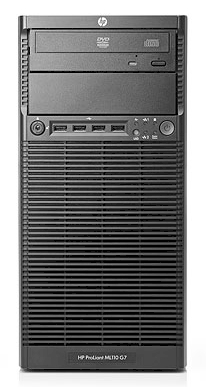 The ProLiant ML110 G7
Like all Xeon E3 machines, the ML110 G7 has only four memory slots for its single socket. HP is supporting 2GB and 4GB DDR3 sticks running at 1.06GHz in the machine, for a maximum of 16GB.
The ML110 G7 comes with two Gigabit Ethernet ports, ten USB ports (four on the front of the system), and four PCI-Express 2.0 slots (one x4, two x8, and one x16 slots). Its motherboard has an integrated six-port SATA RAID disk controller, and there's room for either four 3.5-inch disks or eight 2.5-inch disks. Either SAS or SATA drives can be popped into the box in either size.
The unit also comes with HP's iLO 3 service processor for remote management – a high-end feature not usually found in the company's entry-level tower servers from HP – and it comes in a Micro-ATX 4U tower.
HP is supporting Microsoft's Small Business Server 2011 in Standard, Premium, and Essentials Editions, as well as Windows Server 2008 R2 in Foundation, Standard, Web, and Enterprise Editions on the machines. You can also preconfigure the machine with Microsoft's SQL Server 2008 R2 database in its Standard and Workgroup Editions. Red Hat Enterprise Linux 5 media can be acquired for the box for $30, but HP is not preinstalling it or offering tech support by default on this box.
A bare-bones ProLiant ML110 G7 with a Xeon E3-1220 running at 3.1GHz with 2GB of memory, a Smart Array B100i RAID controller (in a slot, not on the board), a 350 watt power supply, no disks, and no management software or operating system costs $749. Stepping back to the on-board SATA controller and adding one disk reduces the price to $710.
A more reasonable configuration, with a quad-core Xeon E3-1240 (3.3GHz), 4GB of memory, and an upgrade to a 460 watt power supply (with the HP Insight Control management software, but still not operating system), costs $1,455.
If you want to use hot-plug disks and go with small form factor drives (why not?) and buy a configurable model, then building a proper configuration with one E-1240 processor, 16GB of memory, four 2.5-inch SATA drives at 500GB each, and HP CarePack support for three years will run you $3,027. Windows Small Business Server 2011 with five user licenses will cost another $789.
Rack 'em up
Generally speaking, rack servers appeal a little more to mid-sized businesses than to their smaller brethren, and HP has forged a variant of the Xeon E3 machine in a rack format called the ProLiant DL120 G7.
This 1U rack-based machine has the same basic feeds and speeds, but has room for only four 3.5-inch disks or eight 2.5-inch drives. HP is supporting new 1TB SAS or SATA disks as well as the 900GB SAS disks in the DL120 G7 machine.
The DL120 G7 has only two PCI-Express 2.0 slots – one x8 and one x16 – accessible from the rear of the chassis, and provides two Gigabit Ethernet ports through one adapter.

The ProLiant DL120 G7
A base DL120 G7 using the Xeon E3 processors comes with the E3-1220 processor (that's the four-core 3.1GHz version), 4GB of memory, one 3.5-inch disk (HP doesn't say which one), and a 400 watt power supply without the Insight Control management software. It costs $1,109. If you want to buy a configurable model and build a proper machine, then a box with the 3.3GHz, quad-core E3-1240 processor, and four 2.5-inch, 500GB SATA disks costs $3,283 with three years of support and no operating system.
Customers who buy the ProLiant ML110 G7 or DL120 G7 today can expect them to ship on June 29.
SMB switcheroo
Even though switches tend to outlast servers in the data center, if you're an SMB upgrading your servers, HP is willing to bet that you are also thinking about getting new switches to link your servers, storage, and end users together.

The HP V1410 unmanaged switch
The new V1410 unmanaged switch is a basic, fanless Gigabit Ethernet switch that can mount in a rack or sit quietly on an office shelf. The machine comes in versions with 8, 16, or 24 Gigabit Ethernet ports, or with 8 or 16 Fast Ethernet (100Mb) ports.
HP has rolled out a new set of chipsets for its homegrown switches, and several models in the V1410 family support the IEEE 802.3az energy-efficient Ethernet protocol, which can yield somewhere between 50 and 60 per cent power savings over prior HP chipsets for these baby switches. A base 8-port Fast Ethernet model costs $59; pricing for the other models was not available.
The V1410 has a switching capacity of 48Gb/sec in the 24-port version, and has a port latency of 3.6 microseconds at Gigabit Ethernet speeds. This switch can handle up to 37.5 million packets per second (tested using 64 byte packets), and has 512KB of flash memory, which is used as a packet buffer.
Moving up to management
Gerhard Abeska, HP networking solutions marketing manager, says that the company has about a third of the worldwide managed-switch market in data centers, and the company is adding a new 48-port managed switch to complement the 8 and 24 port machines in the V1810 line that were announced about a year ago.

The HP V1810 managed switch
The V1810-24G Layer 2 Gigabit Ethernet switch announced last year had two additional SFP ports, and the V1810-48G has four SFP ports atop its 48 Gigabit Ethernet ports. The V1810-48G has 64MB of SDRAM and 8MB of flash, plus a packet buffer that weighs in at 1.5MB. It has a switching capacity of 104Gb/sec and can process up to 77.4 million packets per second (using 64 byte packets). A port hop costs you about 3.2 microseconds, so don't try to build a hedge fund–trading network with these puppies.
The V1810-48G costs $959.
To sweeten the ProLiant deals for SMBs, HP is offering a 15 per cent trade-in deal for customers getting rid of Dell, IBM, or Sun gear to get new ProLiant servers. The deal runs out on September 30, and gives customers a cash rebate of up to 15 per cent, with larger rebates going to customers who purchase in volume.
HP also trotted out its zero per cent financing deal, which applies in the US and Canada on equipment that costs between $1,500 and $250,000, and which gives customers either a 12-month lease with a $1 payout or a 36-month lease with a fair market purchase at the end of the term.
It's not an appliance, it's an AppSystem
In addition to the new ProLiant servers and V series switches, HP has created two new SMB-tuned variants of the data warehousing and analytics appliances from its "Frontline" partnership with Microsoft, inked back when Mark Hurd was in love with Steve Ballmer because Larry Ellison had jilted him.
The high-end of the Frontline appliances were delivered in January based on ProLiant servers, StorageWorks arrays, HP switches, and Microsoft's Windows and SQL Server.
Since Léo Apotheker took over at HP, the brand name on HP's appliances has been shifted to AppSystem, and the AppSystem Business Data Warehouse is a cut-down data warehouse that is ready for data to be poured into it in under an hour, according to Jim Ganthier, vice president of marketing for HP's Industry Standard Servers division, although the exact feeds and speeds of this data warehouse were not available at press time.
The second AppSystem appliance is the AppSystem Business Decision Appliance, and it plunks SQL Server 2008 R2 and SharePoint Server 2010 onto an HP ProLiant DL360 G7 rack server, allowing for hundreds of end users to sift through data to, er, make business decisions.
Pricing for these two AppSystem appliances was also not available. Presumably it is discounted off the cost of the individual hardware and software components, but knowing how IT vendors think, they'll probably argue that having it come preconfigured saves customers time and money, and is therefore worth a premium over component costs. ®
Sponsored: Detecting cyber attacks as a small to medium business